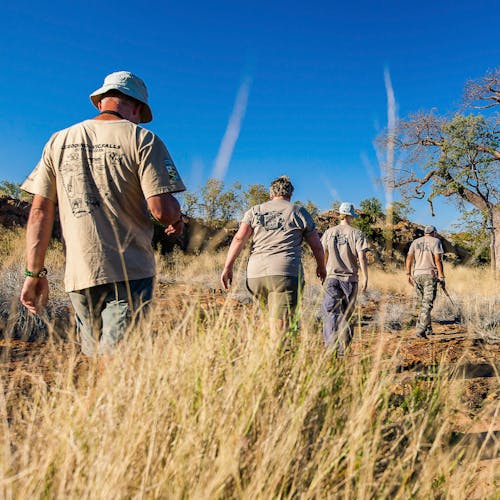 Blog |
Tales from the Bush!
Well, here we are again, face to face with the reality that Africa is the most awesome continent since the separation of Gondwanaland! Roughing it was the emphasis of this years outing with bucket showers and open fire cooking. There is nothing like getting smoke in your eyes when cooking a three-course meal!
Early one morning we headed out to explore the great windswept Bush. Seeing vultures in these conditions was unusual and on closer inspection, we saw that some were taking off from a tree and even more were coming into land – very strange. We embarked on a walk to investigate and lo behold, there they were! Embracing a feast like they have never eaten, almost like flies to a bowl of soup. LIONS! They had taken down a giraffe bull and were filling their bellies as fast as they could amidst trying to fight each other for the pole position. We decided to withdraw and to rather enter by vehicle seeing there were a number of cubs present and that is not a good sign when they are eating and even more when you are on foot. We viewed them for two days and saw the most wonderful transition of the lions being displaced by a clan of hyenas and vultures waiting their turn to make feast of whatever was left over. We spent hours there and became part of the stench, the feeding frenzy and the cycle of life in the veldt. This was better than BBC because we could smell it and be part of the entire interaction.
We spent time, hours, with elephants, black rhino, and hippo. Not to mention the lion and then also the leopard and the cheetah. We tracked a leopard one morning and eventually found it under a tree. A relief on my side seeing that my tracking skills were in question! Every day unfolded into another soul warming experience as we absorbed ourselves in the warmth of the bush and the gems that it had to offer in the animals we were discovering.
Until the next safari, keep both hands on the wheel and have a save distance from the vehicle in front of you in the traffic. I will watch out for the elephants on your behalf.
Take care
Johann Lombard