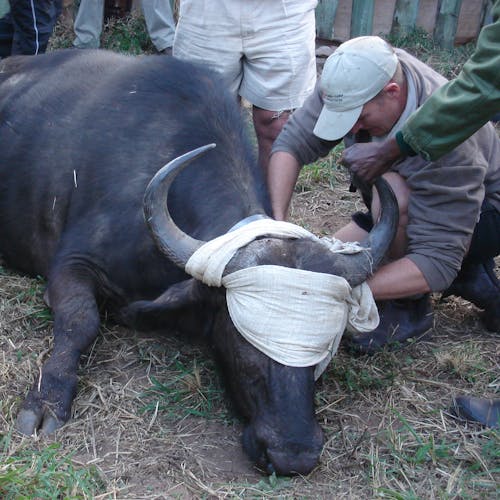 Blog |
Buffalo autopsies and lion contraception!
When ACE asked me to write up a summary of my time on the Vets Project, I did not know where to begin.
I spent four weeks working with Dr. Rogers and it wasn't long enough! I learnt so much from him whether it be the reason the buffalo were being tested for T.B. to how to treat a dog for snake bites.
At around 8.30 a.m. I was taken to the practice which was about 25 minuets away from camp. Although some mornings, it was much earlier due to the nature of the weather. It got extremely hot around 9 a.m., so it was best for us and the animals if we worked early morning or late afternoon. As Dr. Rogers is also a wildlife vet, much of the work is done on large, wild animals, usually done on game reserves around Hoedspruit. This meant that I met many people and saw first hand how the reserve worked.
I was the only student for 3 weeks and got to help work on Lion, Cheetah, Sable antelope, Elephant, Horse, Buffalo and of course the smaller animals such as dogs and cats.
The work is extremely hands on and you have to be ready for anything, whether that be taking a Lion's temperature or pulling a dead Sable calf from its mother. It also involves helping out around the practice such as feeding the animals, cleaning, filing and even answering the phone.
I also had the pleasure of helping with two autopsies: one sable and one buffalo calf.. This was extremely interesting and very worthwhile for the owners of the animals so they could be sure that nothing may be affecting the rest of the herd. Many of the animals are precious to conservation, business and to individuals, so the work done here is incredibly important! Sable, for example, are on the endangered species list.
Ironically, due to the nature of most game reserves, use of contraceptives on animals is sometimes necessary. Two lionesses were injected with the contraceptive chip to ensure a balance within population as placing a fence around an area means you have to maintain what is inside. We also checked whether female sables were pregnant, removed a thorn from a hoof and dealt with a difficult birth which turned out fatal for the calf. One cheetah ran into a fence and injured his back legs.
I would recommend the vet project to anyone who wants a fresh new experience of veterinary medicine and a life changing time. South Africa is an amazing country with the most interesting people!