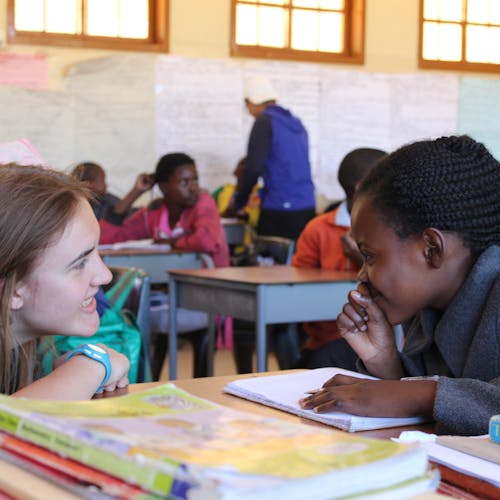 Blog |
Gap Years, Clearing and Africa
The sounds are what you notice most in Africa. This was a part of this fabled continent I had not been expecting; the constant humming of the insects in the bush vying with the birdsong and, if you listen carefully, punctuated by the thrilling whoop of a hyena. Everything is bigger and better in Africa; the mammals more impressive, the birds more colourful; the insects edible and the snakes more venomous. Sitting outside enjoying my breakfast as a giraffe quenched his thirst a few metres from me I couldn't help thinking how close I had come to not being here.
I had planned to take a Gap Year all the way through secondary school. I knew I needed a break and to see a bit of the real world before embarking on that well trodden path of University, career, kids, mortgage etc. I was considering working on a project in the USA with the hope of also being able to earn some money. This plan fell through and it was then, whilst meandering through cyber space that I happened upon ACE. I had always liked the idea of visiting Africa but was quite concerned about safety, hampered as I was by the usual Africa stereotypes; pontifications by those who have never been to Africa but who know someone who was mugged in Cape Town.
I took a risk and booked my trip; a month spent teaching in the Northern lowveld of South Africa. We were welcomed with open arms by the local community and for the first time in my life I wasn't doing something for me. Back home I had had a job to get money so that I could go out and buy fashionable clothes; I had worked hard at school so that I could get a good career and then be able to buy a large house and a purple VW Beetle. For the first time I was doing something not for personal gain but so that others would benefit. The strangest thing was that I got more out of this experience of helping others than I had in my whole life.
We were living in a ranch and teaching environmental science at two of the local schools. The difference between British school children and South African school children is that one wants to be there and the other does not. The children were just so keen to lap up any nugget of information we could throw at them. The British concept of having to threaten parents with prison should their children play truant seemed ludicrous. My first week was spent marveling at all the new sights and smells. By the second I was hooked, I really felt that I was on the frontline of African aid. By the fourth week I was exhausted. I now have the utmost respect for any man or woman who devotes their life to this valuable profession.
The weekend excursion to Kruger Park was particularly memorable, two days spent in the car searching for the elusive leopard, the only one of the big five that we did not see. The second day began at four in the morning as we had booked a walk with one of the rangers. It was worth it however when an hour later we found ourselves crouched behind a tree stump watching a couple of white rhino stroll past!
The crucial difference between this trip and any other was that we saw the REAL Africa, not that Safari print luxury apartment in Johannesburg. We were living in a working South African ranch and contributing to the running of a vital part of the community. I recall one night I spent in a backpackers in Johannesburg. I met a couple of Australians "So how are you finding South Africa?" They had been making their way from backpackers to backpackers in their rental car. They had done cage-diving, the highest bungee in the world and been on 'safari'. In my mind's eye I could see the girl ticking things off on her fingers as she spoke to me. "Yes" I said "but how was South Africa?"
So if you are through to Clearing don't look on it negatively, think of it as a Golden Opportunity. This is a chance to embark on a life changing experience; one that will undoubtedly change your life.