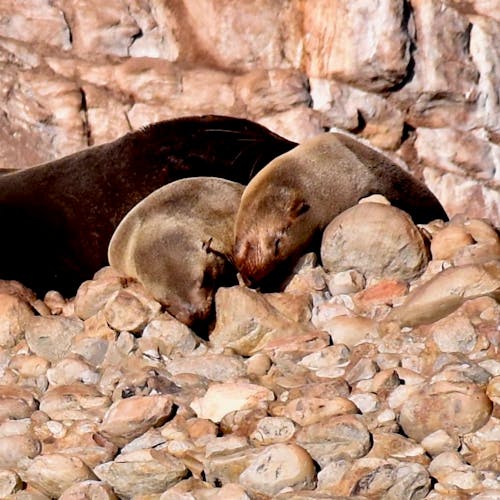 Blog |
Latest news from the Whale and Dolphin Centre
Common Dolphins
On a particularly rough 15th August, a fairly ordinary boat trip took a turn for the considerable better when a call came out from another Ocean Blue boat that a number of common dolphins had been sighted in the bay. A rollercoaster-esque race to the scene revealed upwards of 1000 Dolphins seemingly travelling in all directions at once! They were joined by a vast mob of Gannets and the occasional Penguin, all of which made for a very special sighting indeed. Unfortunately the rapidly deteriorating weather meant that our stay couldn't last forever and we were forced to leave, but not before Joanna and Emma could have an especially close encounter with a large wave!
RAIN, RAIN and more RAIN!
The month of August started off with a full week of non stop RAIN!!! As well as the river that formed under the volunteer house and the one that flowed into Debbie's kitchen there were floods from George to P.E. All life forms were taking strain from snakes climbing aboard rafts and Sea Rescue jet skis to Joana lying on the couch repeating the sentences, 'It has been raining for 24 hours! How can it be raining for 24 hours?!'. On Wednesday the 2nd a tree fell across the driveway. Dana was biting her nails as she was due to leave that morning so Vic, Hal and Augustine braved the wind and rain to chop it up. By the time the road was clear we were over it and took the day off but Dana made her flight. Central Beach was washed away and a whole forests cluttered the brown ocean. Later we were to hear tales of bravery such as Jaco swimming for 2 hours against the current to rescue an old lady. Some stories a bit more exaggerated than others…
Ph.D students working hard!
Our darling Gwen came back on the 4th and for a long time saw no Brydes whales. However, she is much happier now, as they have started to re-appear and we have had some really good sightings. So far, she has identified 63 animals, which is fantastic for this species. Aaron is also very happy as his subjects – the humpback whales – have started returning – many of them with small calves!!!! During a research trip last week, we even managed to listen to them singing over the hydrophone – absolutely awesome!!!!
Southern Right Whale Birth
On Monday 14th August we were on the boat off Dune Park watching 2 southern right whales. Both of them came to the boat, looked at us and after a while continued moving away from the boat. It had been a really good sighting and everyone was happy! We were about to leave when Carla (the skipper) saw a sunfish. While we were watching the sunfish one of the whales started breaching so we stayed a little bit longer. After a while this whale disappeared and the other started to show a strange behaviour. It was rolling, tail slapping, flexing the tail upwards and arching its body in a way that the head and tail were up at the same time. Then Joana and Carla saw a movement that looked very much like a contraction and that the genital slit seemed to be a little bit open and they started thinking she was giving birth. Frantic phone calls were made to Vic to describe the behaviour….and the answer came back – Yes, almost certainly, this whale was preparing to give birth, but usually labour would last anything up to an hour! Unfortunately the boat needed to return to shore, so Joana and Carla sadly left the "mother-to-be". BUT….When the boat returned on the next trip (about 20 minutes later) they saw this cute little calf, swimming next to its mother. It should have been around 5m! Joana and Carla were so happy, with a big smile on their faces and were telling everyone about it like they were the mothers.
The whale called "Prisoner"
On the 24th Joana and Siria felt drawn to the ocean even though the weather was not ideal (understatement of the year! Wind blowing, pouring with rain!!). They were watching Southern Right whales but no pictures were being taken as it was very wet!. Then suddenly we noticed that one of the mottled animals had rope wrapped around his head. Siria bravely risked not only her life and camera but also her dryish cloths to get a picture of this poor whale. After sloshing back into the office the photo was examined and then e-mailed to Mike Meyer of Marine Coastal Management. The Whale Disentanglement Unit was put on alert and a plane was sent up the next day – everyone was on the look out for the entangled whale….but unfortunately it was not seen again. We hope the rope does not cause too many problems for this animal – who was given the name Prisoner in our ID catalogue.
Stranded seals
On Monday the 28th August Debbie received a call about a seal about 60cm long on Brenton beach. The lady on the phone was rather insistent that we come down, so off we went with a crate in case we had to bring the little fellow back. Well…when we got there the only thing that we found that was 60cm long was a piece of drift wood and not far from that was one massive seal! It was a bit shorter than the couch in the office lounge that everyone takes the recovery position on while nursing a hangover. It was as thin as a rake and too weak to move. It was immediately clear that there was nothing we could do for it…after consulting with National Parks and the local vet, we decided to leave him alone. It was very sad, but we had to leave nature alone this time.
On the 4th of September some kind member of the public called to inform us of a stranded seal on Robberg 5. Unfortunately the poor thing had already passed away and the cause of death was complications during birth (according to the reportee?). Well, this time it was almost believable….there were just a few tiny details that planted a seed of doubt in our minds – like the fact that the seal's hind flippers were missing, along with half it's face. It was also bloated, rotten and stank like anything!!! The real give away, however, were the bullet wounds! Just to be sure Hal loaded it up on the blue truck and to take it home for further investigation but not before stopping by a petrol station and nearly killing one of the attendants with the stench… The next day we all gathered round the carcass and pondered about the best way to start the dissection without having the inflated body burst all over us. Thanks to Debbie we were successful at puncturing the animal and letting it safely deflate before hacking away at it. Seal hide is no joke. It has to be one of the toughest materials out! The boys were sent to tackle this part but one of them just couldn't handle the smell so it was left to Debbie, Dom and Siria!! Everybody else watched from a safe distance!