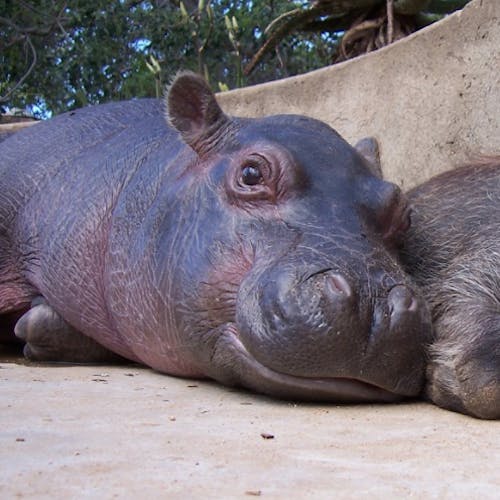 Blog |
New Arrival at Moholoholo
Humpfree is thought to have been born on the 3 January 2006 in Hazyview, Mpumalanga Province of RSA. He was separated from his Mother by rejection or interference from dogs and/or humans and found on his own in shallow water with wounds thought to have been dog bites.
When Humpfree arrived at Moholoholo Rehabilitation Centre on 5 January 2006, he was very weak and thin and in danger of becoming dehydrated and critically ill. Hippos, being amphibious mammals, naturally live in freshwater areas and their thin, naked skin is highly vulnerable to overheating and dehydrating.
The challenge the volunteers and staff at Moholoholo faced was to encourage Humpfree to drink milk and to keep him in water. His 'adopted parents', Stuart (a volunteer) and Corrie (a Ranger) spent over a week rotating shifts throughout the day and night, staying with Humpfree continuously, to endeavour to get milk into his system. Unfortunately this was not an easy task and with Humpfree not accepting to drink from a bottle, he caught pneumonia from a lack of energy and heat loss. Finally after 8 days of intensive care, Humpfree began to suckle their fingers. With this progress and a spark of initiative, they poured the milk into a dish and finally Humpfree was feeding! Since then, Humpfree still requires regular attention and feeds, now drinking around 4-5 litres per day and spending his days frolicking around in a hippo pool, originally used by Tinkerbell, a previous hippo that was nurtured to adulthood by staff and students at the Centre and released onto Moholoholo Game Reserve.
When I arrived on 27 January, I found a healthy Humpfree, just over 2 weeks old diligently following students around in their daily tasks! After a very welcome hello, Humpfree proceeded to collapse out next to me while keeping an eye on the volunteers cleaning his pool! Naturally unprotected hippo calves are easy prey for predators so Humpfree's instinct is to keep close to the students that are feeding him. In his pool he has two large rubber rings to simulate other hippos wallowing which he feels safe under to sleep. A few days after I arrived, Humpfree spent his first few hours at night by himself with Stuart finally sleeping without the weight of a small hippo curled up next to him!! Although during the night Humpfree obviously realised Stuart was missing and wandered out of his pool in a quest to find the students! He was found happily snoozing under a large tree the next morning!! Humpfree is now growing stronger every day and is most definitely a member of the Moholoholo crowd, often making a sneaky appearance at the clinic and seen trotting after our volunteers working at the Rehabilitation Centre. As he is still very young, requiring regular feeds and care, Humpfree will stay at Moholoholo for the first few months of his life, until he is strong and independent enough to be released back into his natural environment.