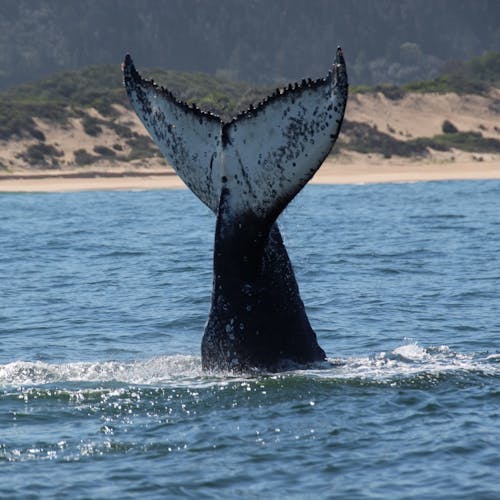 Blog |
Newsletter from the whale and dolphin centre
Hi all! Greetings from the Whale and Dolphin Research Centre…
Hope you are all well… huge apologies for not getting in touch sooner but things are slightly hectic around here!
We have four volunteers at the moment but with Jesse coming back next week, a new student arriving on Thursday and three new volunteers expected next Monday… we are going to be kept very busy!
Here's the latest news from the Centre…
False killer whale stranding
A live stranding of a juvenile false killer whale at Buffalo Bay, just outside of Knysna on the 28th of March… volunteers rushed to the scene but arrived just after the vet put it down. The poor animal had been in the hands of humans all afternoon, trying to refloat what they thought was a bottlenose dolphin (hmm), that had been hit by a boat! The false killer whale, which was under debate for a while as to its correct species (I still think it's a pygmy killer – says Joe!) was still a baby, with only a few teeth showing in the upper jaw. We have the animal in the freezer and he is due for dissection at the end of June.
Baleia – New Research Boat in Knysna
The research boat Baleia which had been sitting idly in PE for about 8 months is now up and running in Knysna. Volunteers spent about a week cleaning, sanding, polishing, and painting (the boat and themselves!) to get it ready for a test run and Joe's engines are working perfectly!
Thresher shark
Very cool sighting… A Thresher shark was spotted on the 16th of May on Dolphin1 just off the wreck. It was seen leaping out of the water three times and was estimated at about 3 metres. The tail alone is 6 feet! That was the only thing seen that day though as the dolphins seemed to have gone walkabouts!
Gwen and her Bryde's whales
Gwen is steaming forward with her Bryde's whales with some very cool sightings in recent weeks. Last week she came across 9 in one trip which for these whales is quite an achievement as you all will know! Not a bad trip when you consider she also saw a group of 1000 common dolphins! (Everybody is very jealous!) We also had a trip out on Delphinus on Friday and saw a further 3 Bryde's whales and an exciting group of bottlenose dolphins feeding. (I have identified over 50 individuals now and will be starting biopsy sampling soon... should be a breeze don't you agree?)
Jeremy the Cat
For those of you who never met him we have a new house cat! "Capt Jack Jeremy Atreyu Miguel Optimus Prime Pimp Storm Cockcroft-Young" (or Jen for short) was discovered meowing frantically (only 5 weeks old) outside the Backpackers in PE by Hallam and Joe. Now taken under the wing of Siria he has bloomed into a psycho cat who never stops except to pass out occasionally. He has been growing like a madman and is now 3 times the size he was when he was first found. He has moved out of his safety jacket and is becoming a man, highlighted by his antics e.g. was caught red-pawed rifling through Siria's underwear in Natures Valley! He enjoys long walks on the beach and digging his own holes. His beach training has been tough as he has been put into many a deep hole, but he has escaped spectacularly. His jump is very impressive albeit a bit inaccurate (head first into many walls!)
New student to work on bottlenose dolphins
Joanna arrives on Thursday from Bangor University. She will stay with us for 4 months – working on bottlenose dolphins, using her own photos, which she will take while she is here and photos taken over the last four years. She will be concentrating on animals seen in June, July and August, as Gareth's work showed some interesting trends during these months.