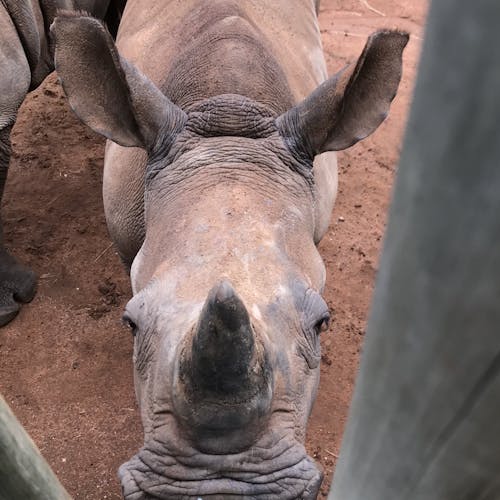 Blog |
Ntandande the Baby Rhino thrives at Moholoholo!
I came home from Africa with 600 pictures… HALF were of a baby rhino at Moholoholo Rehabilitation Centre where I was volunteering!
We called him "Rhino Baby" or "Baby Rhino" for a long time, depending on who was calling him. Brian Jones (the co-ordinator at Moholoholo), Lisa, Stewart, and myself collaborated and came up with Ntandande (pronounced In-ton-dawn-day) which means Little Orphan in Zulu.
He came from a farm in Lydenburg. His mother was an older cow and was unable to care for him since he was born late in the winter (He was 2 months old in early December). He was pretty much starving to death, dehydrated, and had pneumonia when the owner found him and brought him to Brian at Moholoholo. Rhino Baby lived in the clinic for his first few weeks at Moholoholo before being taken out in the garden during the warmer part of the day to play.
Lisa and I arrived at Moholoholo November 14th… he had only been there a week or so by then. He was doing better, but still quite ill. His bottles consisted of non-fat milk powder (donated by Pick 'N' Pay grocery store) water, glucose powder, Vitamin B, and anti-biotics. It was a great deal to measure correctly and heat to the correct temperature… He was on about 3/4 of a Liter 6 times a day when Lisa and I became "mommy" (weight: 58 Kg) and was at almost 2 1/2 Liters (weight: 98 Kg) when we left!!! Humpfree the baby hippo was jealous of him and Rhino Baby was curious about Humpfree. It did not help! Humpfree would charge at him and one day and could have hurt him. That was the end of keeping the two of them in the same section of Moholoholo. Brian suggested that we move Ntandande down to the Dassie section of the rehab center. This was also the section where the student house was. It worked out GREAT for night time feedings because we didn't have to walk in the dark all the way to the clinic- hoping not to run in to Humpfree in the dark. Our routine became: First feeding at 7am then off to the garden for a game of chase, some exploring, and naps in the shade of the BIG tree, bottle again at 11am, repeat morning activities, bottle at 3pm, repeat morning activities, bottle at 7pm and nap with Stewart while Lisa and I went to dinner, bottle at 11pm and back to bed, bottle at 3am and back to bed, bottle at 7am and here we go again! Between the 3 of us (Lisa, Stewart, and I) Ntandande was never alone… around the clock care and CONSTANT attention!
I could go on and on…. Lisa and I left Moholoholo on December 14th with tear filled eyes. Ntandande had left rhino tracks on our hearts forever… He was at 98 kg when we left and was being weaned off of his night time feedings. We began leaving him on his own a little more and allowing him to explore the garden on his own. He was growing up to be a big boy…