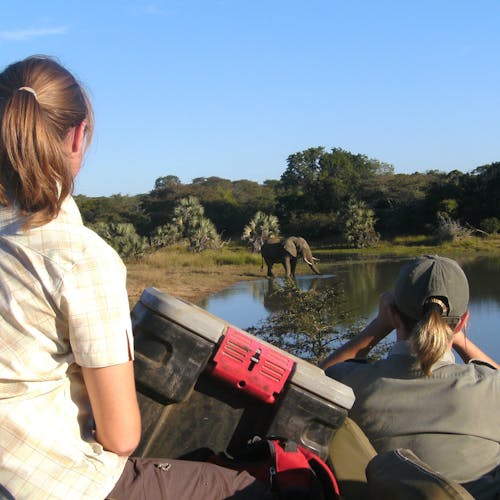 Blog |
Returning Student Report
Hi! I've just returned from my 10 weeks in the northern province of South Africa. Although it would take forever to tell you everything I learnt and did, I am really glad to share some of the main bits with you! Everything went so well and I feel so lucky to have chosen the projects that I worked on as they gave me a real variety of experiences involving wild animals, injured wildlife, horses, people and excursions!
My first 4 weeks were spent isolated in a 24 000 hectare game reserve-the natural bush and ecosystems here were amazing and full of a huge variety of trees, birds and animals. Our team of 5-7 worked with a ranger called Marius. He taught us and set us studies to do on animals and plants etc. to build up our knowledge. I can't believe how much I learnt-I can now ID a number of Southern African species and detail their markings and colour, behaviour, habits, spore (prints) and sounds etc. which enabled us to later collect the data needed for the management of the reserve as well as being used for comparison with other areas of Africa.
Sleep-outs were an important and exciting part of our work. After preparation sleep-outs on raised platforms and walks to waterholes, we did a 24 hour watch by a water hole to record every animal we saw come to drink from the water. I enjoyed this a lot although the nights were freezing! We stuck near the fire in our sleeping bags for safety and warmth through the night and were accompanied by Marius who was armed! We learnt to cook a braii (like a BBQ) and use potjie pots for traditional food as well as learning which trees were good to use as fire and which were poisonous. We also watched the stars and found the Southern Cross as well as trying to sleep when not on shift! Between 10pm-1am, Katy and I took our turn to look out. We sat in the open-top land rover a few metres away with a spotlight and took it in turns to look for animals and check our fire. Being wake at midnight was awesome and we made some great sightings. At one point we could hear Hyena's on one side of us, Lions the other side and Jackals behind!
Our 'ranger lifestyle' didn't include a regular routine-you can't plan in the bush! We did however have a safari team and a house team which insured everything got done as well as a student rep, which rotated every week. I had a go at everything. House team duties included cooking and cleaning, vehicle maintenance, daily log, weekly and monthly reports, water checks etc. and the making/putting out of fire at night whereas the safari team consisted of orienteering using very dodgy maps! Game counts, using the radio and aerial for tracking collared animals and sitting in the front seat to find predator prints.
Our main focus was Hyena and Elephant research. We visited a Hyena den sometimes twice a day-sunrise and sunset- and watched as the cubs grew and formed their spots. We also spent many hours searching for a rebel Hyena that had broken into our vehicle and eaten chunks out of the steering wheel but were still unsuccessful by the time I left!
Elephant monitoring was also very important, as most reserves in Africa are too small now to habituate the number of Elephants that there are despite the awful population decline. Culling is illegal so rangers have tried forms of contraception on Elephants. At the greater Makalali part of our reserve we were monitoring the behaviour of some bulls to look for hormone change as each female was only allowed one calf each to control numbers and maintain the environment. We also had the privilege of tracking 'John' the Elephant. He was unique and made big newspapers as a new type of contraception had been tried on him-Elephant vasectomy.
The physical element of my first 4 weeks included fence patrol and maintenance and 'brush packing' whereby we spread thorny branches over dry areas. This was to prevent animals treading over the grass when the rainy season arrives and things start to re-grow. As well as this was bush-walks. This offered a great change from flying around in a vehicle for up to 12 hours a day! A tense moment was when we were by 'Hippo Pools' – as we walked along the Hippos path into the water we realised that the Hippos were also out of the water which made us all jump! About 10 Hippos ran into the water although I thought they were charging for us at first and the noise they made was un-real. SO loud and scary, especially knowing that they kill the most people in Africa for the reason that people use their paths to collect water and essentially intrude in their territory.
Days off at Garonga were spent relaxing around our shared house as it was too dangerous to leave alone and Marius also took us on some excursions. We watched the rugby, visited the Modgadgi Cycad forest to learn about the unique plant and the Rain Queen Tribe and also spent a weekend at a growth centre in the mountains, which was beautiful. We walked in indigenous forests on 'fairy walks', learnt to do reflexology on each other and chilled out. We stayed overnight in a log cabin by a lake, which was so pretty and such a special trip for us all. We were also treated to a meal at the Garonga safari lodge one evening.
So, 4 weeks later I was sad to leave Garonga and my friends I'd made but excited to enter a new project. We clambered and squashed into the back of a truck and raced along the bumpy road to the usual meeting place- a café in Hoedspruit town. By the time we arrived, my face felt like clay! I was left with another girl and the two of sat there for a few hours talking to the waitress and trying to guess which Land rover was for us! Eventually we noticed two men walking towards us and I couldn't help but laugh-was he going to be our student rep? Frank, my new boss was the most genuine caring guy and later offered me a job, but was such a character with his petit frame and bush of blond ringlets bouncing off his head! We had a chat whilst we drove to meet the others at Ilkley Game Ranch where the Nholwasi Project was based – my favourite place in the world!
Ilkley Game Ranch was very different to Garonga. For a start it was near a tarmac road, we slept in wooden chalets, the warthogs and antelope were almost tame (but not the Leopard!) and the students staying there were both on the community project and/or the horse project. This was a bonus as I got the chance to do the horse project for a week as well!
My typical routine with the horses included feeding, grooming, stretching and caring for the horses then saddling up and riding the perimeter of the farm on fence patrol which would take an hour and a half. After that the horses would relax whilst we picked up their poo around the paddock with our hands! 4pm was time to feed the horses again and twice a week we taught 5 of the local children to ride in the ring. It was lovely to see their confidence and ability grow. I couldn't ride either when I arrived so spent my first morning with a ranger called Reteef. He taught me to walk, trot and canter on a horse called Dave which was good fun and I didn't fall off! The seven South African horses were tough but gentle and so intelligent-most commands were simply voice instructions that were fine as long as they didn't sense your nerves and listened to you! However, I nearly fell off once when a Vervet Monkey ran in front of Cilas, my horse and spooked him! Riding though the bush with Giraffes on one side of me and the mountains the other really did make you feel like a part of nature.
In total I spent 4 weeks teaching in the Acorn Hoek community. Esri was our Afrikaans ranger and was passionate about her job. She taught us loads and put in so much effort. We would be ready to leave by 7.30am to be in the teachers meeting by 8. The school day was broken up into 3 lessons; 8.30-10, 10.30-12.00 and 12.10-1.30. We had an ecology syllabus that included lessons on soil, pollution and water for example which we taught to 12 and 13 year olds in 3 different schools each day. A lot of my time was also spent as a supply teacher in which case I didn't have a lesson plan and was told to improvise! I actually really enjoyed this especially when I taught a Grade 1 class for a whole week (aprox.6 years old). I taught them things like road safety, how to tell the time, their times tables, English, and art or music-they also taught me this! This worked well as I got to know the children as individuals and they thrived off our more regular routine. As well as this, I supervised choir, sports and traditional dancing and drumming clubs after school hours, visited the pre-school and visited the AIDS/Love Life centre- a group of us then did talks in high schools. Overall, I taught an age range of 4-24 as some students weren't motivated to leave at Beretta school-although Beretta was supposedly supported by the government the conditions were poor, the buildings were bad, 50% had HIV or AIDS, there were 84 Shanghaan pupils in a class who couldn't speak English and a lack of desks as they were used for fire wood.
I spent most of my time at Lumukisa School. This school wasn't supported by the government but due to outside support, was actually better off than the other schools in the community. Here, we also organised a fun day for the kids which went really well. We had apple bobbing, treasure hunts, talent shows, fancy dress and a girl and boy were crowned as Mr and Mrs Lumukisa. A gardening project was also on-going at this school and pupils were provided with a feeding scheme.
We had Friday afternoons off each week and spent them visiting the local town to use internet/phone or shop in the gift shops etc. Esri took us on trips every Saturday and Sundays were our day off to relax around the farm making beads, reading, playing cards, swimming or whatever! The brilliant trips Esri took us on were visits to the Cheetah project, Reptile Park, Silkworm farm and a camping weekend at the Kruger National Park – only 20 minutes away and is the same size as England! It was really strange camping here because we were used to seeing animals in a cage with us on the outside, but at the campsite it was the opposite! At night, a Hyena stalked the fence drawn to it by the smell of cooking! We saw so much wildlife and stunning skies yet the best sighting at Kruger was a Giraffe carcass killed by 7 Lionesses and a massive Lion, which chased away hungry vultures! We also went on a social evening at the Matumi Game Lodge, went micro lighting at sunrise and went on a day trip driving around all the view points, e.g. the Blyde River Canyon (3rd biggest canyon in the world and most alive), the 3 Rondavels, Gods Window, the northern Drakensberg mts., the Tunnel (a kind of market), Graskop for pancakes and a gorge swing. The gorge swing was the best! The cliff was 90metres high and you free fall 64 metres in 2 seconds before the rope catches you! So much fun and earns you a beer at the other end after reaching the top of over 500 steep steps!
During weekends and evenings we also got involved with the bush camp on our farm. School trips from the cities like Johannesburg and Pretoria would visit for activity weeks and we'd help supervise their sleep-outs around the fire. Gemma and I organised a weekend for about 12 kids from Lumukisa. The activities included team games, night drives and teaching them to swim. This was really challenging but so rewarding to have the responsibility and to see our plans actually working!
I gained such a lot from my experiences in South Africa and feel so lucky to have had the opportunity to go and see the many sides of complicated South Africa! The country in itself, the people and wildlife has confirmed my ambition to become a social/cultural anthropologist and has definitely inspired me to go back next year! I can't wait!
Ceri Whatley