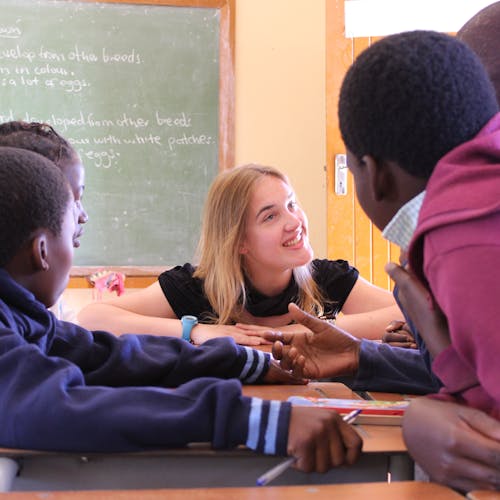 Blog |
School Report from Nholwasi
Although we did not really know what to expect when we arrived at Nholwasi, we were both surprised by the surroundings. It is set in a Game farm with a wide variety of plains game – giraffe, zebra, antelope warthog (including a tame 1 called "grumpy", who has a tendency to raid for food any place he can)
We have also recently found out that there are 2 leopards who occasionally wander through the farm, this can make walking to your room at night a pretty daunting experience. We however have not had the pleasure of bumping into them yet!
The students stay in a recently built camp, which consists of 4 different wooden cabins. There is also a large communal area where we eat, watch t.v, chat & generally chill out. We are also lucky enough to have our own pool & tanning area!
We have spent this first week visiting 3 of the local schools. There are 3 different models of schools & this week we have spent the majority of our time at the model A school. The main purpose of working at the schools is to teach the kids about environmental issues, this has been a learning experience for us as well as we have become aware of the environmental problems in the local area.
The first section of the course is about water conservation. The kids were actually involved in this topic & were very enthusiastic to learn!
Apart from working in the schools, we have had a chance to visit the local rural town, called Acornhoek. This was quite a different experience as the first thing we saw was an open air restaurant, serving BBQ chicken heads & feet!! It was a really bustling little town & it gave us a real insight into local life!
We go into Hoedspruit once a week for e-mailing, shopping etc. we spend the rest of our spare time joining in with activities at Nholwasi, exploring the farm (or getting lost!!!) & cooling off in the pool.
Frank is the student co-ordinator at Nholwasi. He is a great story-teller & is very passionate about what he does. As well as Frank there are the rest of the staff, who are all easy to get on with & a lot of fun!
We are both really enjoying ourselves here & are looking forward to the rest of our stay!
Emma & Nikki