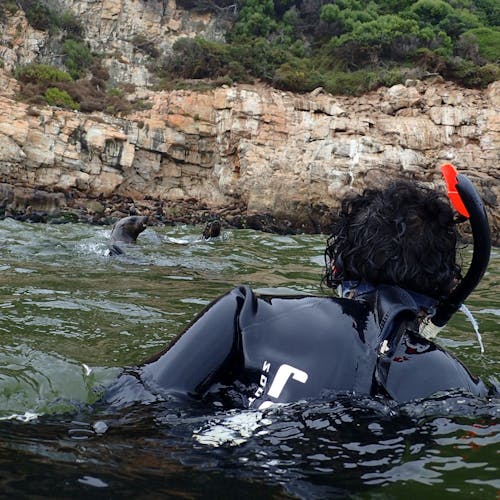 Blog |
Seal pups, Strandings and Fundraising!
Greetings and Salutations friends!
The last time this update came out we were busy planning and organising the fundraiser. We are pleased to announce that it was a great success! We raised enough money to buy a whale disentanglement kit (which was our aim) and everybody had a very good time! (There were plenty of sore heads the morning after!!!) The fancy dress aspect of the fundraiser was both fantastic and disturbing. Aaron is way too comfortable being dressed as a slutty nurse! (So now we know how he spends his weekends!) And Vic looked suitably nutty as a psychiatric patient on the loose!!!
On a more serious note, we have been working very hard at the office (as always) and have been busy analysing stomach contents of several bottlenose dolphins that mass stranded on Bazruto Island in Mozambique. Vic had to fly up there to do the autopsies and brought back the stomach contents for us. (He really is too kind!) The contents consisted of squid beaks and otoliths and our next task is to identify them…….it could take a while!
The breeding season on the Seal Colony at Robberg is well under way and we counted 18 beautiful seal pups on our last trip down to Robberg. We have also had the pleasure of entertaining a live seal pup which washed up on Robberg beach (at the wreck). Clayton, from the surf café, contacted Debbie and she collected him and brought him back to the office. We were having trouble deciding what to name him, so Jessie suggested 'Steve Cute'. After much discussion about how to release him we contacted the NSRI who were training that evening and persuaded them to take him back to the colony. They successfully managed to return him to the rocks on Robberg – thanks guys! We can only hope that he found his Mum and all is well.
There have been a few strandings since the last update. We had a live stranding of a Common Dolphin on the 28th November. Siria and Vic attended at 7am and attempts were made to re-float the animal but were unfortunately unsuccessful. Vic had to make a difficult decision and the dolphin was put to sleep. While this is a horrible thing to have to witness, it made for a fantastic dissection and all the volunteers were happy to join in. Debbie instructed and a full autopsy was carried out. A good day was had by all! (Apart from the poor dolphin of course!). The reason for stranding was very apparent – the poor animal had a collapsed lung and was obviously in a lot of pain – poor thing!
Aside from that, there have been 3 other strandings recently. On the 6th November we went to Bird Sanctuary Beach to find a very rotten Bottlenose Dolphin. We managed to take away most of the skeleton of that one. The dolphin had obviously been there for some time as he was very 'frot'. On the same day we got a call telling us that there was a Cape Fur Seal on Robberg 5. So we set off and dissected him on the beach. There were a few people walking on the beach and I am always surprised that they walk by while we are hacking at the animal and don't ask any questions! On the 19th November we took a trip to Keurbooms River Mouth and found a baby Bottlenose Dolphin. We floated him across the lagoon on a body board and took him home. He is in the pit, waiting for someone with a strong stomach to deal with him!
We had an interesting day last week too. We have been trying, for weeks, to re-assemble a seal skeleton. The problem is that we have no pictures of exactly what it should look like. We have a couple of seal pups which we have preserved (named Sodomy and Sacrilege – Thanks James!) and Debbie decided we ought to get one of them X-rayed. On Tues the 5th December we drove down to the Medical Centre with Sacrilege in a black bag and managed to beg one of Debbie's friends into X-raying him. Twenty minutes and 6 or 7 (free) X-rays later; we left the medical centre with quite a spring in our step! Goes to show it's who you know, not what you know!
The volunteer house is somewhat quiet now. The last time the update went out we were up to 14 volunteers and officially a mad house! We are now down to 5 and a little more subdued! (Except on the odd occasion when we pop to Flashbacks, and then subdued is definitely NOT the word!) By next week the numbers will have again depleted and the CDS will be down to 3!
Finally and most importantly, everybody at the CDS would like to wish you a Very Merry Christmas, wherever you may be, and all the Luck in the World for the New Year… we hope you like our Christmas card… it was taken at the fundraiser and specially adapted by Debs for the festive season (she hopes some of you will forgive her for her artistic attempts!)