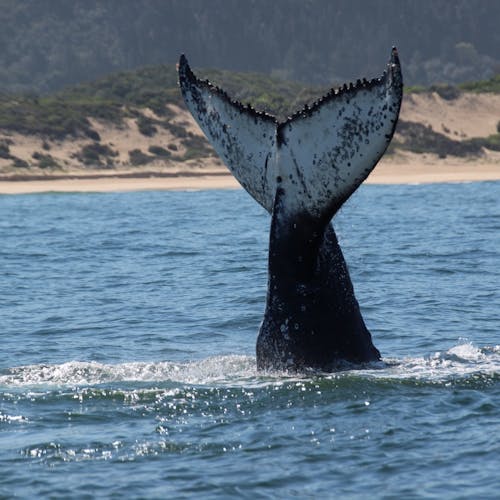 Blog |
Snow in Plettenbery Bay!
Greetings from a cold and wintry Plett! We have survived the snow and the hail and the Southern right whales are on their way… here's what we've been up to in recent months! It's a long one – we've been busy!
Beach clean up
The 22nd of April turned out to be a rather eventful Sunday. It started off with us heading off to the Ski Boat Club – we were going to assist the ORCA volunteers in a big beach clean up. We were assigned the Lagoon area so off we went. It was a beautiful sunny day so the walk along the beach was pleasant even when you were bending down every ten seconds to pick something up. Poor Siria managed to find just about every glass bottle ever thrown in the bush! Even with the hundreds of Old Brown Sherry bottles in her bag, Siria did admit that there were people worse off like Eugene who's area was covered in used baby nappies that everyone else refused to pick up. Shame! Scary to see what people will leave on the beach! Our hard work was later rewarded with a braai at the Ski Boat Club and a beer.
We tackle 100+ school children!
The 24th and 26th of April also proved to be both eventful and challenging. We had an average of 54 school children (12-13 years old) each day to entertain and educate for about 5 hours! We managed to pull it off splendidly with the help of the ORCA volunteers. We had six activities that we rotated them through after splitting them up into groups of ten. We had Rock Pool Investigation, Scavenger Hunt, Obstacle Course, Fact Sheets and Games, Sand Castle Building competition and a talk on the marine mammals of Plett. We managed to make each activity educational… even the sand castle building. Both teachers and children loved it. We were exhausted!
Imogen's Common Dolphins
On Monday the 7th of May I had the chance to go out on a boat and had the most amazing day so far! Our first sighting was a group of Common Dolphins 1000+ strong that were feeding on bait fish. These animals were joined by numerous cape gannets, the odd penguin and seal and to top it off, were being followed by a Bryde's whale. We spent about 20 minutes with the common dolphins, it is very hard to describe the feeling of being surrounded by so many wild dolphins… you can't help but smile. After leaving the commons we managed to find two other Brydes whales. Finally on the way back to the beach a group of Bottlenose dolphins were surfing along in front of the dunes of Keurbooms beach, a fantastic way to end a brilliant afternoon, on a sea like glass and not being able to move in the Bay without seeing animals.
Otter project to start
Two weeks ago, the volunteers got up at about 5am to go and walk Robberg in the dark! No, they were not just being over enthusiastic, they were looking for Otters. Debbie wants to start a project on them so we went to see if we could spot him walking through the Gap. The rangers said that he goes that way every morning but we must have just missed him because all we found were tracks. We traced him all the way to the beach between the island and one of the fountains. Even though we didn't manage to find him we enjoyed the warm beautiful morning. We've had more reports about otters from Keurbooms, Natures Valley and Sedgefield so we are looking forward to finding out more about these animals.
That same day, we also managed to get on the boat later. It was nice to see the bottlenose again but the highlight had to be the bow riding Bryde's whale! We found him on the way to Robberg and he was quiet happy to travel along side us before having little bow ride and then doing what Bryde's whales do best, disappear. Gwen's smile was so big that it looked like someone had stuck a banana in her mouth sideways especially since she was at the front of the boat watching all this happening underneath her. To top it all off we had humpback dolphins at Robberg. The water was crystal clear and we could see them gliding along. Life doesn't get any better than that…
And a final note from Kate… Snow in Plett!
The first week here was spent getting used to all of the normal day to day activities – in the office, on the boat, at the farm etc. We had beautiful, warm weather every day (despite it being winter and the locals complaining of the "cold temperatures") up until this past Saturday night when winter really decided to kick in. After a whole night and full day of hearing the wind howl and the rain pour down we awoke Monday morning to come back to the office and face another wet day but as we arrived in Plett we realized it wasn't only wet and cold, it was snowy and the roads were covered in hail and ice! The locals seemed both mystified and fascinated with the random frozen down pour!
Best Whale Wishes
Deb, Siria, Gwen, Kate, Aaron and the rest of the Team