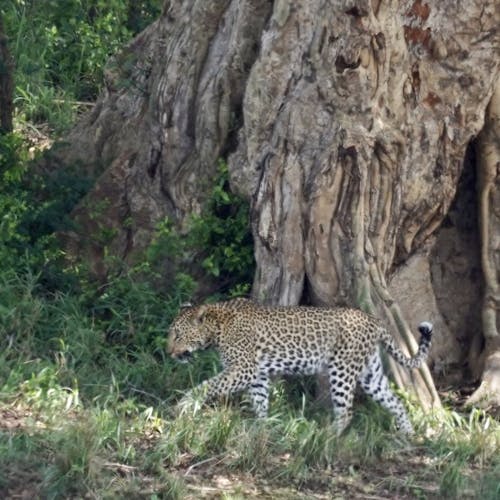 November – December 2006
Its has been another busy month for the project and the reserve has changed substantially in the past month also. We have seen the first rains make a real difference with the reserve looking more like a forest than the bushveld.
Data news:
The weather this month has gone from one extreme to another, with 62 mm of rain and some strong winds. We were even caught in the worst of the rain this month when in the northern section the words "lets beat this cloud", will stay in every ones memory for a long time.
This month has been excellent for interesting sightings with the most notable sightings including: red hartebeest, Bushbuck babies, honey badger, Bushpig, Eland and Vervet monkey babies. Also we have seen tracks of Cheetah, the rain has also seen the arrival of many migrant birds, Leopard tortoises, Velvet mites and the foam nest frogs have started nesting.
We had an excellent sighting of a female Leopard this month right next to the road – she has now been called Star and was spotted again less than a week later.
It is currently denning season for Black Backed Jackals, strangly they haven't been sighted once this month, we assume they are denning on neighbouring reserves.
We have seen the first Tawny Eagles of the season this month and the African Fish Eagles have returned with the rise of the river.
Another good month for mortality records with a Zebra being found possibly killed by Hyenas, a Duiker killed by a Leopard and an Eland Bull that died of natural causes.
With the recent rainfall we have only seen approx 150 Elephants this month – a bit different to October!
In the beginning of December this month we saw a Cheetah and a spotted Hyena on the same night in the Lekkerpoet reserve!
Other News:
Stuart and Annelien have purchased a new land-cruiser this month to make town trips and transfers easier, unfortunately though we will be saying goodbye to the trusty Hilux soon.
A 24hour water count took place this month at Takaneng reserve with a lot being seen including lots of Elephants, Bush pig and Honey Badgers!
Another sleep out was done at Lekkerpoet reserve by the scenic "oasis pans" and Lions were heard also.
We have new staff working at the camp to replace the recently departed Anna and Solly. Their names are Christoph and Plyers.
Craft lessons took place this month with the students making Mosaics and mobiles the lessons seem to be enjoyed by everyone.
We did a road transect this month because when the rains came Elephant sightings became harder to find. The transect gave us more of an idea as to were they went and we did see 3 herds on the transect as well.