Blog |
Getting involved in the race to save the rhino
Our Rhino Conservation Experience puts volunteers at the heart of the struggle to protect and conserve rhino populations in Southern Africa. With World Rhino Day (22 September) fast approaching, we've decided to highlight the various ways we're involved in Rhino Conservation!
The Crisis
Home to the world's largest population of rhinos, South Africa is also bearing the brunt of illegal poaching activities, the bulk of which are concentrated in and around the Kruger National Park. With three rhinos lost in South Africa to illegal poaching activities every day, the race is truly on to save these remarkable wild animals. At the current rate of rhino poaching incidents, it is not inconceivable that we might see the extinction of one or both local species within our lifetimes – the stakes are truly higher than ever! This means there's a greater need than ever before for people from around the world to step up and join the fight.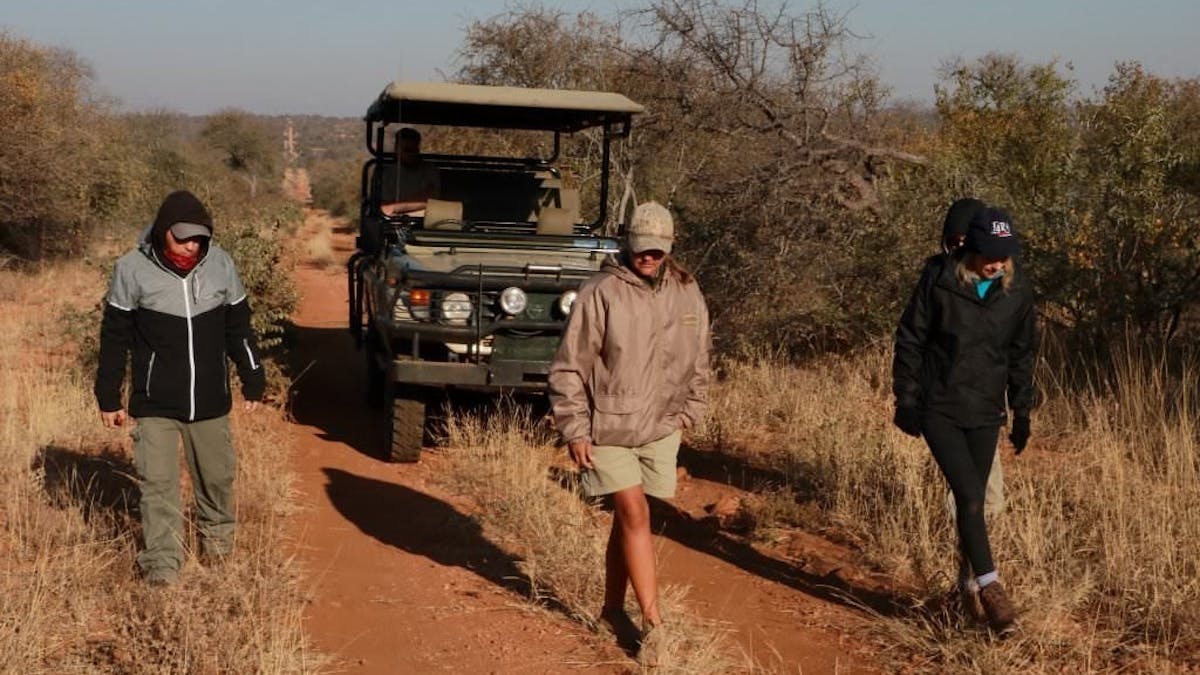 The official rhino poaching figures in South Africa for 2017, published late last year by the Department of Environmental Affairs show that more than 1000 rhinos were killed, which is devastating. Rhino conservation organisations estimate that around 250 animals had been poached by the end of April this year, which means an average of around two rhino poaching incidents per day.
How African Conservation Experience and its volunteers are helping
African Conservation Experience is involved in rhino conservation efforts in a number of different ways. This includes projects with a research and monitoring focus, which feed into protection efforts linked to broader anti-poaching strategies. A prime example of this is our Phinda Wildlife Research Project, which you can read more about here, and which has been extraordinarily successful in conserving rhino populations in their operation area.
We are also partnered with Africa's largest rhino orphanage, sanctuary, and rehabilitation centre. We believe, as do many experts in this field, that saving rhinos is dependent on many different factors, such as creating awareness, rhino rehabilitation, rhino care, and anti-poaching, which is why we've designed the Rhino Conservation Experience – a placement designed to grant our volunteers access to the broadest possible combination of conservation efforts, combining the Vikela Kruger Project and The Rhino Orphanage.
The Greater Kruger Conservation Area
Our Rhino Conservation Experience takes you the volunteer to the very heart of the ongoing struggle to protect and save rhino in Southern Africa, giving you access to, and involvement in, day-to-day conservation activities, and a unique insight into the ongoing efforts to save these ancient and iconic animals. This experience is made up of two distinct components: The first part focuses on protecting and saving the rhinos in the wild through intense monitoring and working hand in hand with dedicated conservationists. The second is based at a rhino rehabilitation centre that is not only saving orphaned rhinos but taking them successfully down the long road to being rehabilitated.
The first part of this placement, which is the focus of this article, is based in one of only a handful of private reserves that have the honour of being part of the Greater Kruger National Park, which is one of the largest wildlife reserves in Africa, and has protected land status. This part of the experience puts volunteers in one of the largest and most important protected areas in Africa. This region is home to a vast array of plant and wildlife species, and it also forms the focus of illegal wildlife poaching – and the fight against these activities – in South Africa.
This wildlife reserve is of extreme ecological importance and is an area the size of a small country where wild animals are able to roam freely. This means that species like rhino and elephant (among others) are able to come and go as they please, which is great and much closer to the natural state of things before man started erecting fences in this part of the world; but it also means that these areas now present an attractive target for illegal wildlife poachers, and for rhino poachers in particular. This in turn means that protecting these areas is more important than ever and protecting and monitoring rhino populations is a crucial part of this.
Project Activities – Learn From Experts in the Field
During their time at this project, African Conservation Experience volunteers are immersed in a wide range of conservation activities centred around rhino monitoring. This part of the experience is hands-on and physical. Daily routines are designed around monitoring drives, bush walks, and the setting and retrieval of camera traps – all vital tools in the collection of data, the creation of identikits (to more easily identify individual animals) and the monitoring of rhino in the area. All sightings and recent activity (in the form of fresh tracks and recently-disturbed middens) are relayed to the anti-poaching unit to help inform and target their movements and patrols. This information is vital in that it quite simply means that the anti-poaching unit has a better idea of where the rhino are, and can therefore concentrate their available manpower accordingly.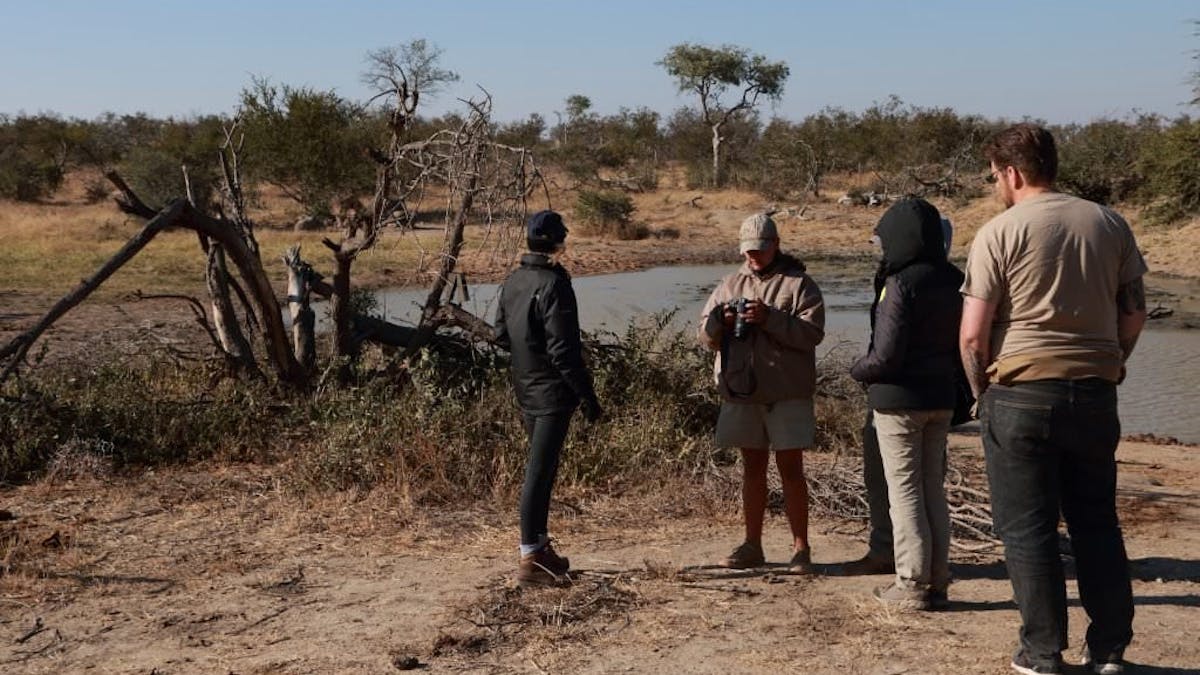 All of these activities are designed to place our volunteers in the field and to involve them directly in rhino monitoring and conservation. While many volunteers relish this extended time in the African wilderness and all of the wonderful things this brings with it, it also means spending time with real experts in the fields of conservation, anti-poaching and research. This in turn presents an opportunity to learn from leaders in these fields and to gain exposure to techniques and strategies at the cutting-edge of rhino conservation. And it really is hands-on! Volunteers set and check camera traps themselves, and all sightings and activity observations are carefully transcribed and recorded. This is a genuine opportunity to be involved!
Aside from specifically rhino-related activities, spending this much time in the field also allows for learning and exposure across a much wider range of conservation and ecological issues. Volunteers are also exposed to more general bird, plant, wildlife and spoor identification during the course of monitoring drives and walks. They are presented a series of talks covering topics like the rhino poaching crisis, human-wildlife conflict, the conservation of one of the planets' greatest wildlife reserves, and other more general conservation issues. Being a part of this experience is an opportunity to be fully immersed in the world of rhino conservation, and to live and breathe it for the duration of one's stay. By the time they leave, they have gained a deep understanding of the complexity of the issues that drive rhino poaching and also those pertaining to conservation in Southern Africa more broadly.
Conservation Impact
The conservation impact of a project like this is difficult to overstate. The mere presence of volunteers on the ground has an impact in itself, as it is much harder for poachers to operate where there is a lot of activity. Add to that the data and information provided to anti-poaching teams and the financial contribution to the sustainable use of the project area, and the contribution made by each individual volunteer becomes a little more clear. Paired with the work, volunteers are involved in in the second half of the experience – caring for and helping to rehabilitate orphaned rhinos at The Rhino Orphanage – the full impact and contribution of volunteers becomes fully evident. This experience is designed as an immersive and holistic rhino conservation experience. It is a chance to get involved in rhino conservation, to learn about the realities on the ground, and to make a real difference.
This two-part placement is currently available in the form of our Rhino Conservation Experience.