Blog |
Orphaned Rhino Calf Gets A New Lease Of Life
African Conservation Experience's rhino orphanage project, Care for Wild, welcomed a new arrival last week from the Kruger National Park.
On Sunday May 20th, Care for Wild rhino orphanage and sanctuary, one of African Conservation Experience's (ACE) longest-standing conservation projects, received their latest arrival; a month-old calf orphaned hours earlier within the confines of the Kruger National Park. This young white rhino calf, soon to become known as Arthur, was the most recent in a long line of orphaned rhinos to be taken in by Care for Wild, which was established in 2001, and which has been working with ACE for an incredible 15 of those 17 years.
Like all the orphaned rhinos at Care for Wild, Arthur's story began tragically with the death of his mother at the hands of poachers in one of Africa's rhino poaching battlegrounds. Sadly, this is an all too common occurrence, and unofficial estimates place the number of rhino poached in South Africa, in 2018 alone, at over 250 animals so far. "The problem at the moment is epidemic," says Petronel Nieuwoudt, founder and head of Care for Wild and long-time collaborator with African Conservation Experience. It is also not uncommon for poachers to target breeding cows with calves in tow, meaning that there is often more than one precious life lost in a poaching incident like this.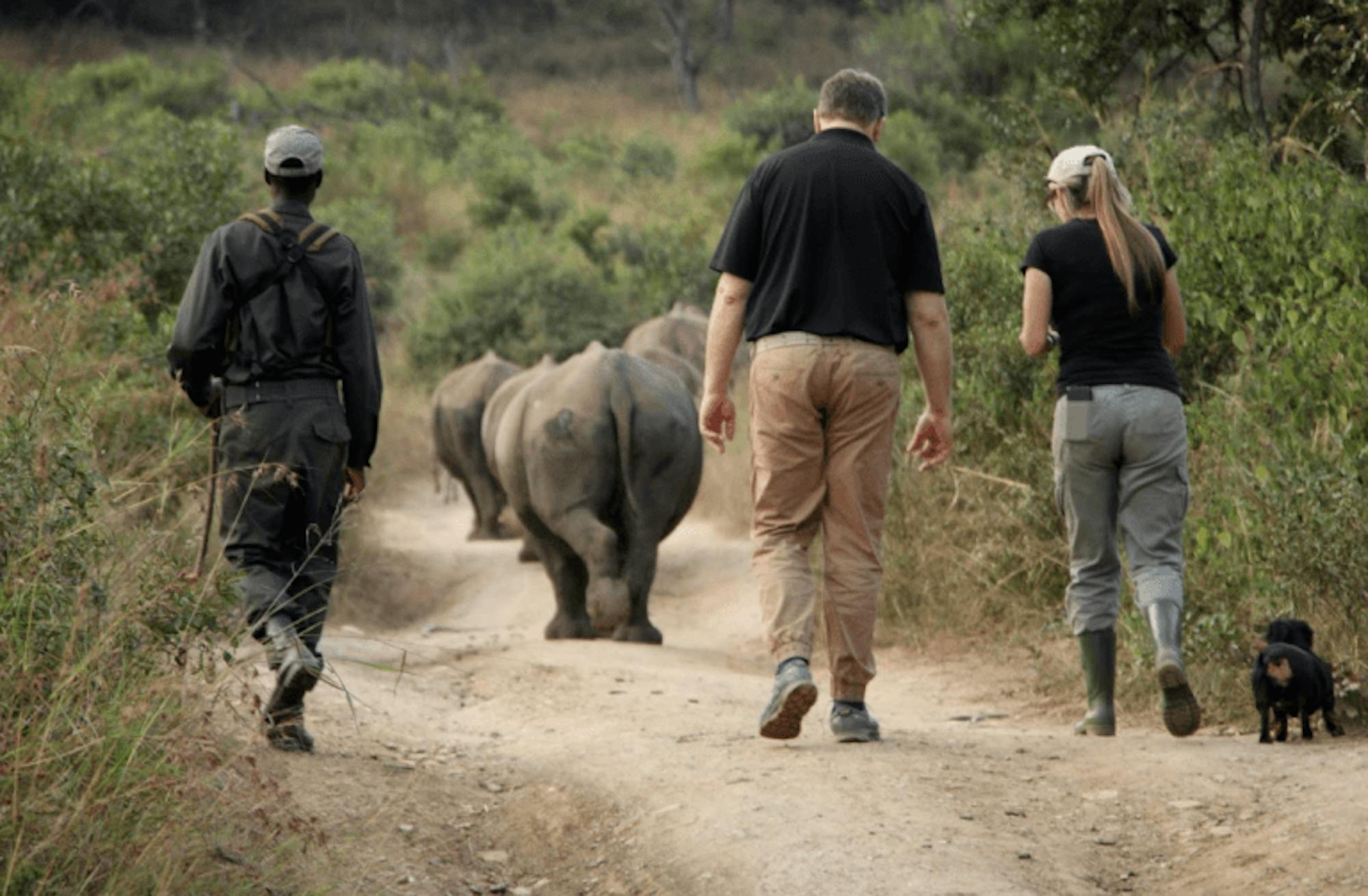 Arthur, though, was lucky in the sense that the response team was able to locate him rapidly. Just hours after his mother was shot, her carcass was found along with Arthur, lingering dejectedly at her side. This was an excellent piece of luck, as it saved Arthur from hours or possibly even days of roaming the wilderness alone, risking dehydration, starvation and potential encounters with dangerous predators.
He was quickly immobilized and examined by the park's veterinary team. It immediately became apparent that he was injured quite badly. As is often the case, Arthur had most likely interfered with the poachers after they'd shot down his mother. The poachers, unwilling to fire their high-powered rifles again for fear of giving their position away before their grisly work was complete, had resorted to the long knife known as a panga to chase him off.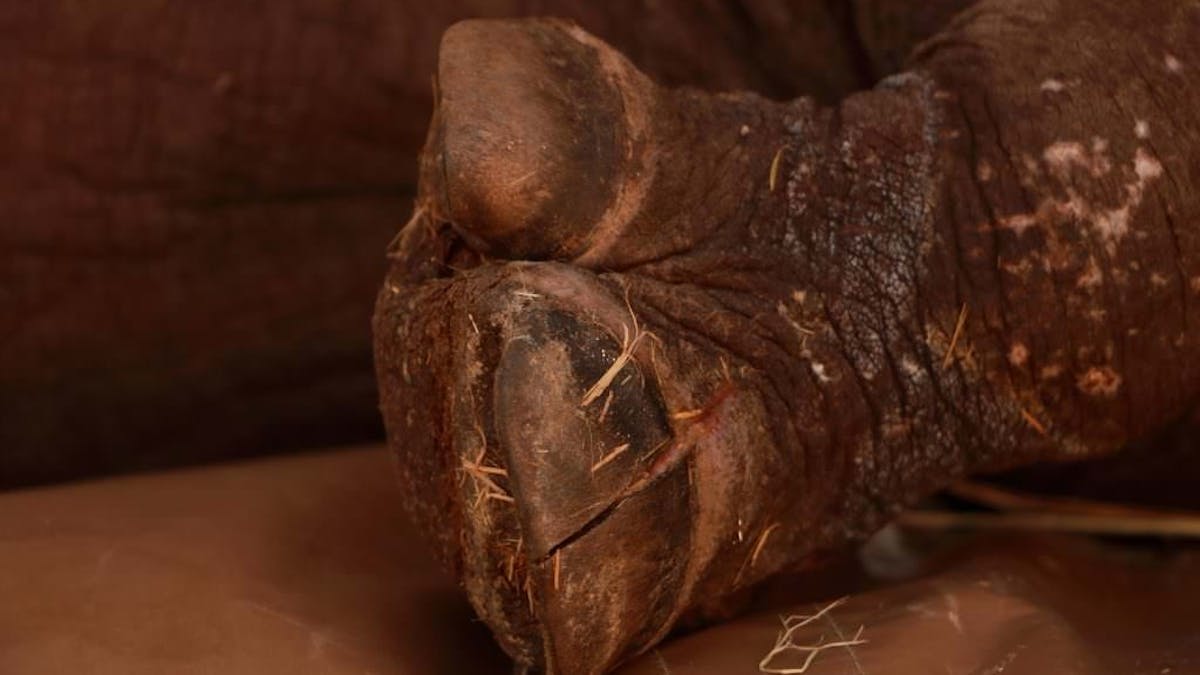 Arthur was struck twice with this weapon, which is most often used to hack off the poachers' ultimate prize: the precious rhino horn. He suffered a blow to his upper back, which left him with a nasty 10cm long gash just behind his left shoulder, and a blow to his front right foot, splitting the nail neatly down the middle and penetrating all the way to the bone beneath. Neither of these wounds were immediately life-threatening, but both posed challenges for his long-term survival, not least of which was the scourge of infection, which could very quickly place the life of this young animal in danger, or leave him permanently maimed or impaired.
The team notified Care for Wild of their impending arrival and whisked Arthur away on board their helicopter. Once safely in the hands of the dedicated team of staff and volunteers at the orphanage, Arthur could begin the journey toward recovery. The first priority was to deal with the wounds he had received at the hands of the poachers; these were speedily cleaned and dressed by an expert wildlife veterinary team, and Arthur was hydrated and hooded in order to minimize stress caused by human proximity.
Like all of the very young animals at the orphanage, he was the subject of 24 hour care from this point forward. From the point at which he first took a bottle containing a specially-devised and highly nutritious baby rhino formula, he was fed every two hours, like clockwork. This 24 hour a day, seven days a week operation requires a considerable amount of work, and volunteers and staff at the orphanage labour tirelessly around the clock to prepare bottles and hand-feed their charges.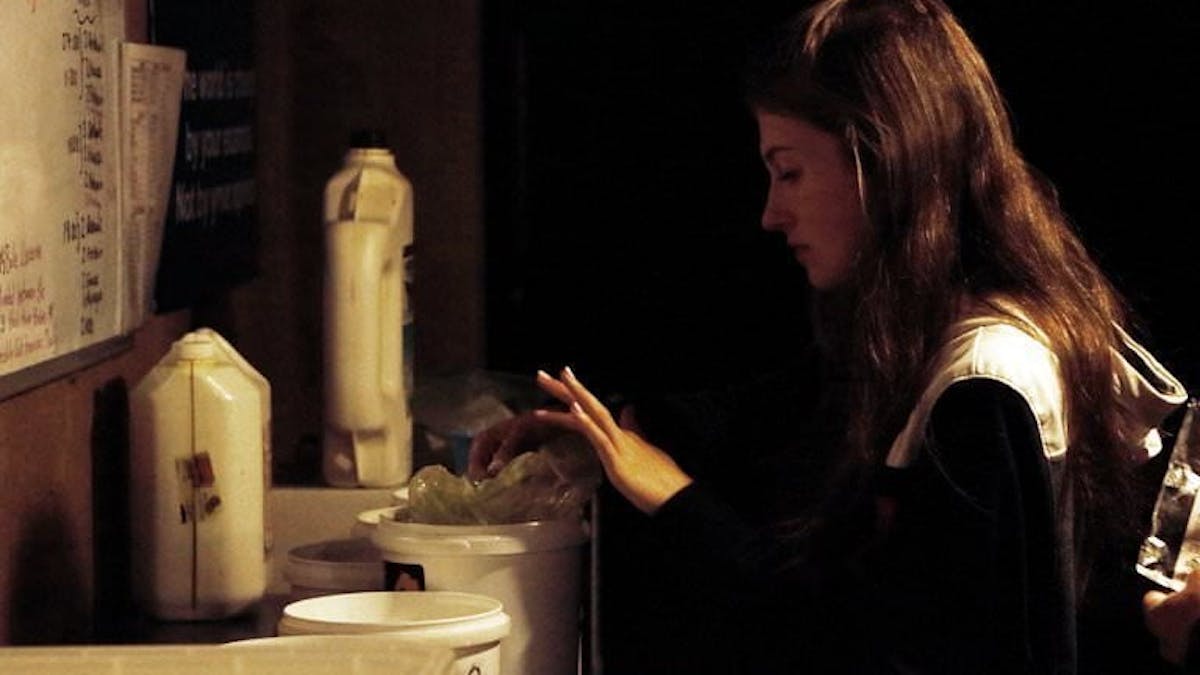 African Conservation Experience volunteers at Care for Wild are involved in every facet of the orphanage's diverse operations. Keeping a facility this large operating smoothly requires a tremendous amount of hard work, time and relentless energy. The feeding schedule alone is a daunting challenge, not to mention the hours of manual labour required each day to muck out bomas (camps or enclosures), pack, move and distribute the bales of solid food for the older animals, and maintain the infrastructure and grounds to ensure that everything functions optimally.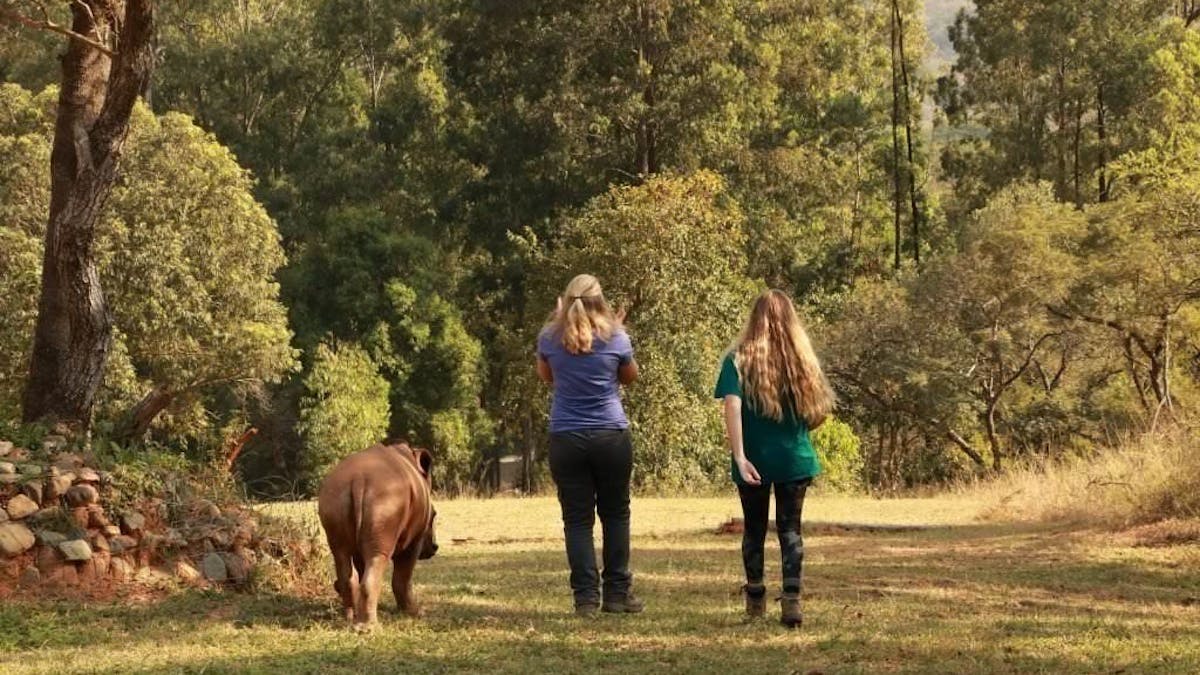 Under the intensive care of his international team of staff and volunteers, Arthur has progressed in leaps and bounds. His hood was removed within days, and less than a week after he arrived, he was ready for the ground-breaking procedure required to repair his injured foot and ensure his recovery from the dreadful wound to his upper back.
A crack veterinary team, alongside Care for Wild staff, was assembled for this purpose, and Arthur had at his disposal the very latest advances in wildlife medicine. Much of the work carried out on Arthur over the following two hours was pioneering, and each and every procedure and approach was carefully catalogued for future reference. This is true of the work carried out at the orphanage more broadly too – every problem encountered and every solution devised is recorded. The technique used to stabilize the wound to his foot, for example, has never been used on a rhino before, so it's quite possible that more than one life was saved on this day.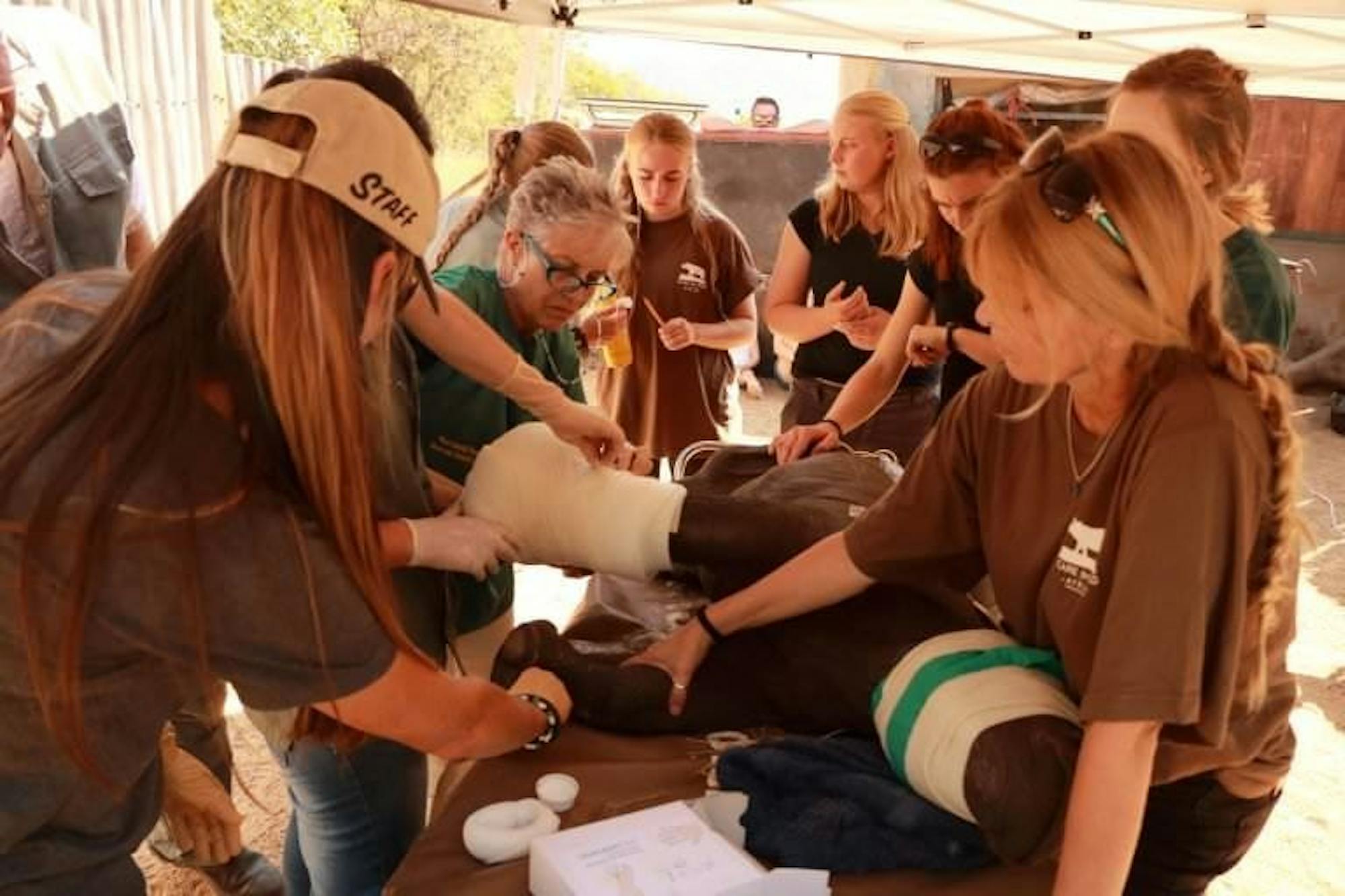 A little over an hour later, Arthur stumbled out into the bright afternoon light in his boma. He was still a little groggy from his anaesthetic and just starting to get used to the specially-designed hard cast on his left leg, but his wounds were cleaned and dressed and he was doing well. His team of carers were exhausted but ecstatic – little Arthur was in with a real chance now. He was ready to begin the long slow journey toward full recovery and eventual release into one of Africa's best protected rhino sanctuaries.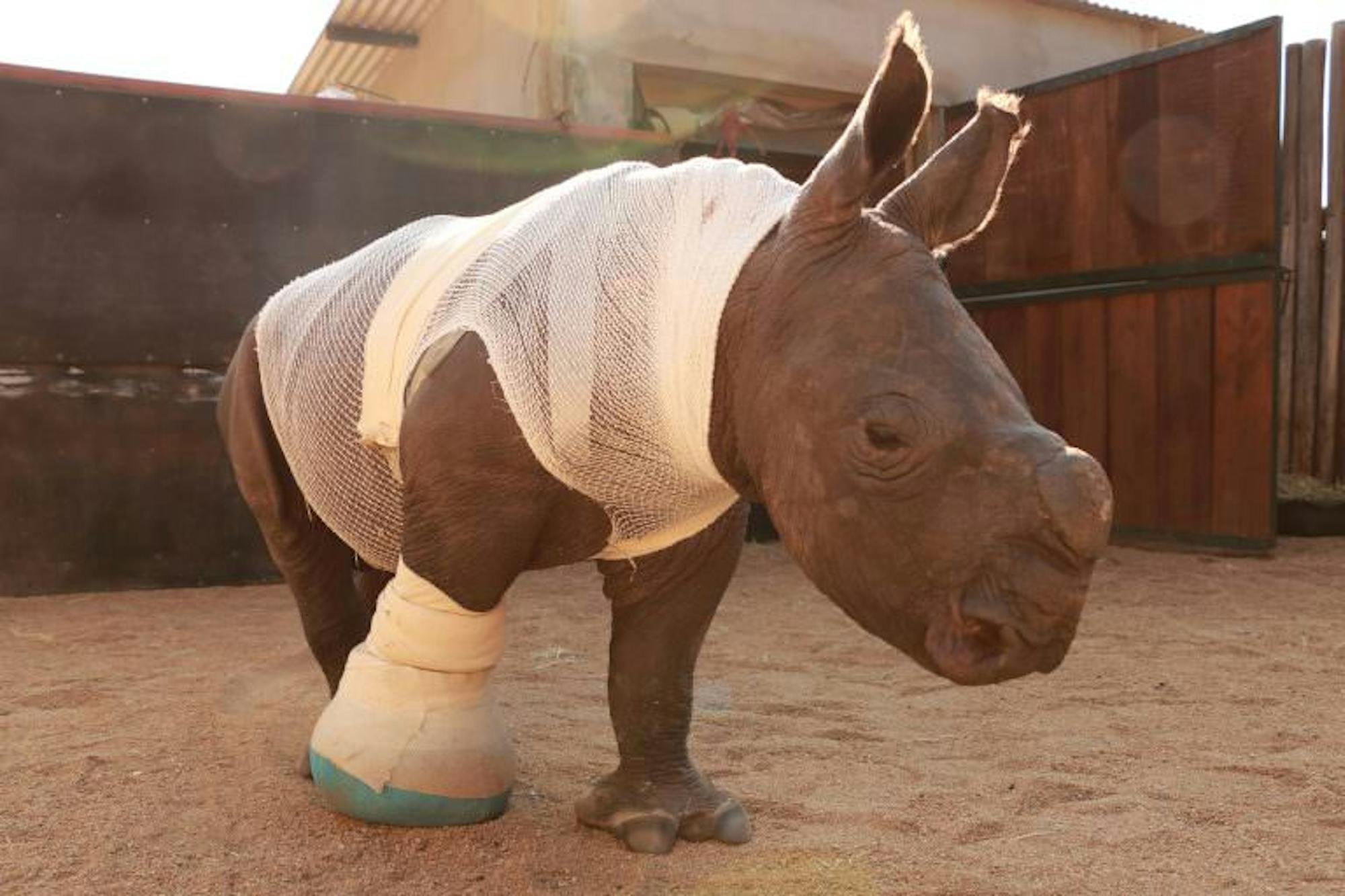 Like all the orphaned rhino calves that arrive at Care for Wild – which includes every single orphan from the Kruger National Park – Arthur's story is a heart-breaking one. For the staff at the orphanage and the African Conservation Experience volunteers devoting their time and energy to the project, though, the challenge is to take this tragic beginning and fight for a positive outcome. Their ultimate goal is to treat and rehabilitate young orphaned rhinos like Arthur until they're old enough to join the free-roaming animals on the sanctuary, when they'll join the ranks of some of the best protected rhinos on the African continent.
For ACE volunteers, time spent on this project offers to opportunity to contribute towards rhino conservation in multiple ways. The impact of their contribution to project funding is immeasurable, and helps cover the astronomic costs involved in feeding, treating and providing world-class security for the animals at Care for Wild. The work they do on the ground, moreover, is vital to keeping the orphanage running smoothly and effectively. They are a crucial part of this extraordinary rhino conservation machine in the bushveld, the largest and most important rhino orphanage in Africa. For Arthur and the others like him, their contribution and involvement often means the difference between life and death.