Blog |
When it's not just the thought that counts
How do you make sure that your "good cause" also has a good effect?
Having good intentions and the heartfelt wish to do something good is as laudable as it can be dangerous. There is no shortage of media coverage of well-intentioned travellers heading to Africa, Asia or South America "to make a difference", only to find themselves at badly managed and ineffective projects – or downright unscrupulous and damaging ones.
This is not the inevitable outcome of volunteer travel though. When good intentions are combined with a good dose of common sense, conscientious research and some solid criteria you truly can achieve good things.
Potential travellers are encouraged to ask certain questions of the organisation that they are thinking of using for their experience (Where does the money go? How long has the organisation been established? What is included? etc) We don't want to re-hash those articles here. Instead, we want to explain which questions the organisation should ask of it's partner projects – and it's travellers.
What is a "good" project to work with?
Conservation value
When it comes to choosing the actual projects that an organisation works with, there are several boxes that need to be ticked. First and foremost, it needs to be a "good" project. Being conservation specialists, for ACE, being a "good" project means that the project has a real conservation purpose. "What are your conservation aims and achievements?" is the first thing we'll ask a project that approaches us to request a partnership. We are not narrow-minded about what the specialisation of a project should be – There are many different applications to conservation, from research to habitat management, animal care, veterinary services or conservation education. What is important is that there is a clear rationale for the work that the project is doing, and that the work is spearheaded by qualified professionals. Of course, some people are excellent at spinning a yarn, and the world of conservation travel is not above that – We've come across plenty of projects that talk the talk and use all the lovely jargon, but that won't measure up when we take a closer look.
This is the step where it helps to be a specialist. Focusing entirely on wildlife conservation work in southern Africa helps us have the in house expertise to assess and monitor the projects that we work with. Our team includes zoologists, wildlife biologists and field guides, and we have a full time operations manager in South Africa who will visit every project regularly to make sure that the work is ongoing and maintains its focus. So we like to think that it would be pretty difficult to get it past us if a project only does window dressing and no real work.
A role for Conservation Travellers
Another other big stumbling block is that a good conservation project in itself isn't necessarily a good project for conservation travel. There are a lot of conservation projects that do fantastic work but they don't have a viable role for conservation travellers, because the work that they do is often too specialised or too dangerous. At such projects, conservation travellers would be little more than visitors or spectators. We don't think that is fair – Conservation enthusiasts who are willing to dedicate time and money to a project should in return have the opportunity to learn new skills and to be appreciated for their hands-on help.
The money question
It would be lovely to be able to ignore the question of money and make the sole purpose of conservation travel to "help the animals". But the truth is that money is a huge part of the equation. Conservation work can be very expensive: It requires vast tracts of land to safeguard precious habitat, qualified professionals from various fields of expertise and an endless list of equipment, including budget-breakers like helicopters and 4x4s. Public funding for conservation work is limited, so conservation projects need to find a different way to finance their work, and conservation travel or "voluntourism" has become an important contributor. Some people question why they should "pay to volunteer" when they are already contributing their time and effort – This is precisely why. Conservation travellers make a double contribution by providing the projects with willing hands and vital funding, and that is something they can be proud of.
As always when "money for a good cause" is involved, it is important to have guidelines to ensure it is used in the best way. As with choosing the right projects, ACE also have guidelines for ensuring that the money goes a long way.
A degree of separation
Our partner projects are not owned or managed by ACE. This is a point that not many people think about when choosing an organisation to travel with, but it's a crucial one for two strong reasons: Objectivity and financial transparency.
First, objectivity: If something is yours, you tend to be biased towards it and maybe a little blind towards its flaws. (Just ask any parent!) The same applies to a volunteer travel organisation that runs its own projects: There is the risk of keeping projects running that have for all intents and purposes achieved the goals they initially mapped out, but organisations keep them on the books simply because they are "theirs".
Financial transparency is the other big sticking point: It's all fair enough for an organisation to say that "80% of the placement fee is paid to the project" – But what if that project is owned and operated by the very same organisation? Who are they paying those 80% to then? That's right – themselves.
Spreading the money
Not only the projects are financially separate from ACE – the same applies to transport and accommodation providers. Many companies own their own camps or volunteer houses, with the same effect as owning projects – more money stays in-house (which also enables them to offer experiences cheaper). ACE own only one vehicle in South Africa, which is to allow our ground manager to travel between the projects. Apart from that ACE hire freelance drivers, who in turn are obliged to hire cars from third party providers. While this might seem an unnecessary escalation of operating prices, it ensures that employment and income is created for multiple parties. In a region where unemployment and poverty are serious problems this is an important contribution.
Ensuring the money makes a difference
ACE prefer to work with projects that rely on the travellers' contributions for the majority of their funding – This way the conservation travellers know that their money truly makes a difference and directly enables conservation work.
What is a "good" Conservation Traveller?
The ACE travellers joining our partner projects are a key factor in the success of the work. Since we deliberately choose partner projects that actually need the practical help of volunteers, we owe it to both the projects and the travellers to do our best to get the right kind of traveller to the right project. So just as we ask our partner projects certain questions, we also ask our potential travellers a few things.
First and foremost, travellers can not simply book a placement online. They need to complete an application form. We have been told in the past that the form is a bit too long, but we like it that way: If you don't have enough motivation to write a few paragraphs, you probably don't have enough motivation to get out of bed at 5 am to do the early feeding round or a morning reserve patrol.
The "application form" is not a competitive process though. Since there is no submission deadline, we don't compare travellers against each other. The purpose of the form is to get to know each traveller a little bit and to understand their motivations and expectations. We therefore ask what their professional or study background is, what they are good at, why they want to join a conservation project, what they expect from their placement, and which project they hope to join.
This information is important to us: Once we approve an application form, we schedule a detailed personal phone consultation. This step is time consuming, but we take it very seriously and we do not compromise on it: We will not arrange a placement without having spoken to the potential traveller directly, and we do not book placements through third parties (travel agents) because we rely on the in-depth project knowledge of our small team to conduct this consultation properly. So what do we cover in this "consultation" (also less intimidatingly known as a "placement chat")?
We confirm why somebody wants to join a certain project and what their true expectations are. The vast majority of applicants have at least partially incorrect ideas about conservation travel – They heard about it from an outdated source of information, or read a story about one particular activity that was true, but not representative of the overall work of a project, for example. Managing expectations is key to ensuring a good match between the traveller and the project – Letting people travel with an incorrect idea of the project work and their role in it would be unfair to both the project and the volunteer.
We check people's ability and comfort level. It's not necessary to be superbly fit / a seasoned traveller / a qualified vet / Bear Gryll's twin to join a project. It's actually absolutely ok to be a timid 17 year old heading out for a first solo adventure, or a retiree with a few niggles here and there. (or to have disabilities – we can accommodate a lot of different special needs) We are happy to work with different levels of experience and ability, but not every project is suitable for every person, and we will be open and honest with people if we think they are opting for a project that will be too challenging and will discuss better options.
After such a detailed chat, it's probably not surprising that about a third of applicants end up arranging a placement at a different project to what they put as their first pick on their application form, which we feel justifies our "no online booking" policy.
Finally, it reassures us that our conservation travellers are heading out well informed. They know what the demands of the experience will be and what they can realistically expect to learn and experience.
An ACE conservation placement is neither an overland adventure, nor a private safari. It is an opportunity to join the efforts of real conservation projects, where the conservation work is the first priority.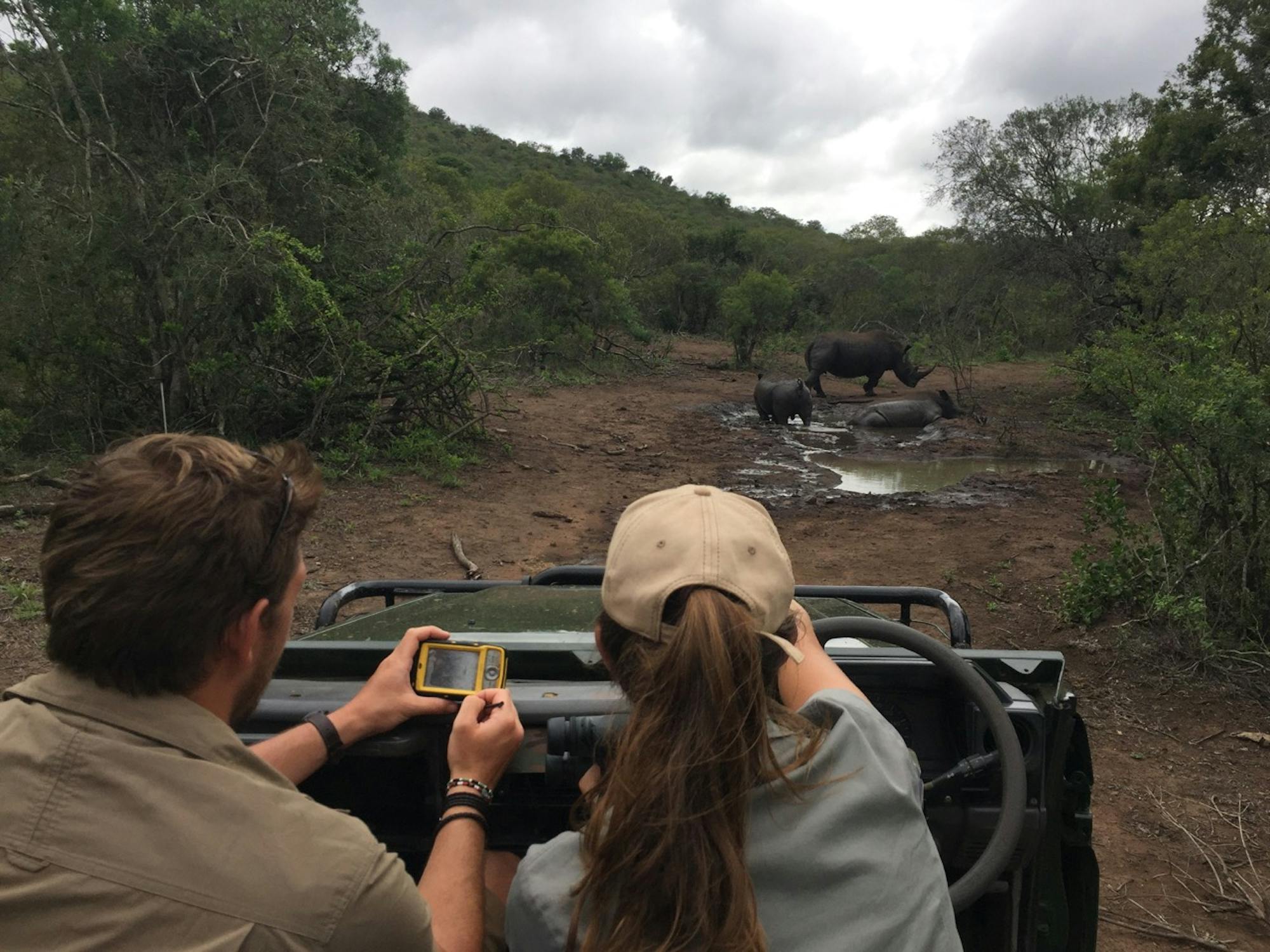 Case Studies: A couple of examples of "good projects"
Taking all these criteria into consideration, here are a couple of examples of two very different projects that we are really proud to work with and that tick all of those boxes.
Phinda Wildlife Research Project
The Phinda Private Game Reserve is a renowned 'Big 5' safari reserve in KwaZulu Natal. It is also a success story for wildlife reintroduction and conservation in collaboration with local communities: The land itself is owned by tribal authorities but managed on their behalf by renowned safari operator &Beyond. Over the last 20 years large numbers of indigenous wildlife species have been reintroduced into Phinda. Considering the thriving safari tourism in Phinda as an income stream, many people might wonder 'What is the need and purpose of a volunteer project in Phinda?' The answer is that the ACE Phinda Wildlife Research Project facilitates the existence of ongoing wildlife research.
Cilla Pickering, Research Technician and Project Coordinator Phinda Wildlife Research Project: African Conservation Experience has been a valued partner for numerous years at the Phinda Private Game Reserve research center. They have provided a steady flow of volunteers, in a fuss-free manner, which has enabled the project to mature into a respected research center. The financial support of the volunteers covers all of our running prices, from fuel and equipment through to salaries; allowing us to do the monitoring that is so important for the reserve.
Apart from financial support, volunteers contribute extra eyes and hands. The project only accepts 3-4 volunteers at a time, so that all participants are productive in the surveys that are at the heart of the research: The ranger in charge of the team can concentrate on driving and monitoring wildlife behaviour to ensure everybody's safety, while the volunteers take responsibility for spotting wildlife, carrying out the wildlife counts and recording sightings and details.
The findings from the research work in turn are vital for those aspects of wildlife and habitat management that really set Phinda apart:
Phinda Private Game Reserve is home to both black and white rhino. They have not succeeded in protecting their rhino populations from poaching, and have successfully relocated several rhino to Botswana to help increase other rhino populations. The rhino DNA kits compiled by the research team are crucial in identifying the rhino best suited for the relocation.
The research team study the lion prides within Phinda Private Game Reserve very closely in terms of territories, dynamics and genetics. This information has enabled the decision-making and planning involved in the recent relocation of lions from Phinda to Akagera National Park in Rwanda, in an effort to reintroduce indigenous wildlife species to Akagera.
Accurate data on the population sizes and structures of Phinda's lions and elephants enables advanced population management techniques. The Phinda reserve use non-hormonal contraceptives to control the size of its elephant population and a combination of contraceptive implants and partial vasectomies to maintain a sustainable lion population.
Local communities have access to natural resources from Phinda, such as reeds used in traditional ceremonies and crafts. Enabling communities to benefit from these resources greatly reduces human-wildlife conflict. Data on the vegetation in Phinda allows the reserve management to identify areas and times suitable for harvesting without damage to the ecosystem.
What past Phinda participants say
Christina Cooper: Phinda was wild and dynamic, and participating in the conservation efforts and management of the game on the preserve was very exciting… My adventures at Phinda included participating in rhino ear notching, tracking animals using telemetry equipment, immobilisation of leopards for collaring, immobilisation of lions and rhinos for relocation, immobilisation of buffalo to test for Foot and Mouth disease, canoeing down a river with crocodiles, camping in the bush, prey and population counts, and snorkelling at Sodwana Bay Beach.
Karyn Gresser: The opportunities we were provided with to go "behind the scenes" were truly amazing and not something that many people in their lifetime would have experienced. You have access to being close with lions, leopards and white rhinos that have been tranquillised for research reasons. Seeing a wild animal so close that you can see every hair on its body and to be able to compare the size of your hand against a lion's paw is incredible and mind-blowing. In Phinda, no two days are the same. There is always so much happening and going on that every day is a new adventure.
Tom Seymour: JR (the Nyala researcher) helped put the elephant records together a long time ago now and the growth rate of elephants is phenomenal in such a large, diverse and rich area. These records needed updating – soon! Whilst about 35% of the elephants we saw were actually in the ID book, there were many that needed full face, ear, trunk and tusk (any feature that makes an individual stand out) photo shots to compile a fully working ID sheet for each one. Telemetry was used extensively with the elephant tracking; every matriarch has a collar. All in all, my 6 weeks stay was nothing short of life changing. I went there to learn, I knew that there would sometimes be days with long periods of inactivity and I feel that I truly made the most of every waking second with the people the landscape, the animals. Simple breath-taking.
Care for Wild Africa Rhino Sanctuary
Care for Wild Africa Rhino Sanctuary is a non-profit organisation near Nelspruit, South Africa. The centre's success is largely due to the combination of professional expertise, personal passion and exemplary responsiveness – and drawing on the support of conservation travellers in the most effective way. The centre was established 4 years ago by experienced wildlife rehabilitator Petronel Niewoudt, with provision of an interest free loan from African Conservation Experience to help build necessary facilities. It was established as a rehabilitation centre, and over the next few years the team successfully rehabilitated and released several serval and caracal cats, numerous birds of prey and antelopes, ostriches, approximately a dozen bushbabies and over 20 mongoose. ACE provide ongoing support through the Khulula Care for Wild conservation travel project.
The year after the founding of Care for Wild Africa Rhino Sanctuary saw the most drastic rise in rhino poaching in South Africa to date. Mpumalanga Parks Board approached the centre to take in rhino calves in critical condition with increasing frequency, and Care for Wild Africa Rhino Sanctuary was stretched to capacity to provide adequate enclosures as well as the veterinary attention and round-the-clock care that is necessary to nurse and settle in traumatised, dehydrated and injured rhino calves.
African Conservation Experience increased the recruitment of volunteers to safeguard the funding for the escalating operating prices and to provide the many extra hands needed: Khulula Care for Wild volunteers are an integral part of the daily responsibilities at the facility. They work in teams to cover all "meal times", preparing the specialist formula and bottle-feeding the youngest rhino. (Baby rhinos need feeding every 3-4 hours while they are being bottle-fed, including feeding times at midnight or 3 am). They also assist with building new enclosures for the ever-growing number of animals, creating enrichment activities like mud-baths for the rhinos, swimming in the pond for the hippos and climbing frames for the primates and smaller predators. Depending on ability and inclination they also help with veterinary nursing procedures, as many of the animals arriving at the centre have injuries.
Petronel Niewoudt has developed successful and ethical processes for the rescue and hand-rearing of traumatised orphaned rhino calves: "Traumatized rhino calves are potentially dangerous and extremely difficult to handle. Many of these calves are not yet weaned and are dehydrated and or injured, but wild animals nevertheless. We developed a system that allows us to treat and handle displaced rhinos, safe for us humans and the rhino calves as well. We use a crate to house the newly arrived animal. This crate is made of steel and wood and is small enough to restrict a rhino calf from charging the care giver, but large enough to allow it to lie down comfortably. The crate is lined with grass and there are overhead infrared lights to provide the essential warmth. Upon arrival, the new calf is assessed by a veterinarian and given intravenous fluids as assessed. The crate works well in calming animals and protecting the people working with the calves. Soon a calf starts drinking milk from a bottle and this is a happy occasion for us. Once calmed and drinking bottle fed milk the calf is moved to a wooden poled boma, where it is integrated into a small group of animals that are in the same age class. From the wooden boma the animal is moved to a larger outside mesh fenced enclosure. We aim to release the rhinos into the larger reserve area of Kruger, which currently has no wild rhino population."
Due to her recognised expertise and high success rate the Mpumalanga Parks Board has entered into a Memorandum of Understanding with Care for Wild Africa Rhino Sanctuary which stipulates that all orphaned rhino calves found in the Kruger National Park will be referred to Care for Wild Africa Rhino Sanctuary for immediate care.
What the Care for Wild participants say about the project
Abigail Salmon: So many highlights. The first rhino bottle feed of the day, pyjama party in the barn for 2 am feeds, seeing the new rhinos taking their first steps in the outdoor enclosure. Prepare for hard work – The animals come first…This was the perfect placement. No improvements – it exceeded my expectations. Can't wait to come back….By the way, I never went back to the corporate world. I've been volunteering with Save the Rhino International since March this year, and will be starting a digital project for the Saiga Conservation Alliance next week. Who would have thought a four week conservation placement would change my life so dramatically!
Becky Burns: No word amazing enough to describe the experience I had… Most memorable moment was being part of building the new rhino enclosures then being there when the 2 rhinos arrived. Prepare for hard work, late nights and early starts!
What the project says about ACE and the role of conservation travellers
Petronel Niewoud, Director Care for Wild Africa Rhino Sanctuary: Care for Wild has been in partnership with African Conservation Experience for many years, which has allowed us to become the centre of excellence that we are. We care for orphaned rhinos from when they first arrive at us as babies often in a critical condition, right up until adulthood. Through volunteer support we have saved a great number of animals, of various species, that would otherwise have had nowhere to go. ACE provides both the funds and the hands to achieve our aims through volunteers. Simply put, without them we would not exist.