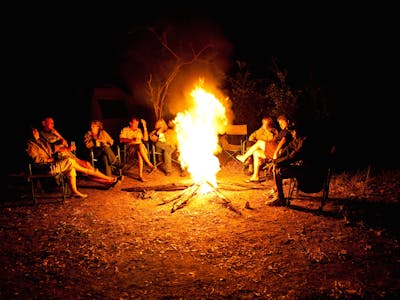 I spent two weeks at Mangetti and two at Phinda and it was such an amazing experience!
Even though I didn't manage to see the wild dogs in person at Mangetti, I was given the opportunity to identify individuals of one of the three packs from camera trap images comparing to the database. Furthermore, we used a drone to capture footage of a herd of around eighty elephants that we had been tracking which was so rewarding as they hadn't been seen in a year and a half.
At Phinda I got the opportunity to watch three lionesses be released into a Boma so they could get used to their new surroundings before being released into the reserve. I also got to watch a rhino mother be treated for a foot injury which was so interesting to watch. Lastly I got to watch as the animal capture teams caught giraffes to relocate them to other parks to increase genetic diversity.
Overall both were amazing, yet very different experiences.
Phinda has more abundant wildlife than Mangetti, and you get to see more in person than just on camera traps. Both taught me so much including how to use telemetry gear to track animals such as lions and elephants as well as giving me a clearer insight into what conservation means on the ground rather than just at the level of NGO campaigns. It was definitely a worthwhile experience that I hope to do again that cemented my interest in pursuing conservation as a career after university.