Animal Care and Conservation Field Trip
Go beyond the classroom and learn about Africa's wildlife up close.
Our Animal Care and Conservation Field Trip to Africa provides your students the opportunity to gain work experience in both an African animal care and rehabilitation centre and with practical conservation work out in the wild. They will have the chance to work up close with a variety of wildlife, from rhinos and honey badgers to chameleons, that have been injured or orphaned and assist in their daily care. 
They will then experience wildlife in its natural environment. The African bush is home to a variety of species, including elephant, rhino, lion, leopard, giraffe, zebra and antelope. They will explore the incredible biodiversity of southern Africa during game drives, bush walks, nights drives and, depending on your bespoke itinerary, a sleep-out under the stars.
Designed to cater for the needs of university, college and school students targeting a career in animal care and husbandry, wildlife management or veterinary nursing, this field trip will give your students a thorough introduction to the diverse wildlife and habitats southern Africa has to offer.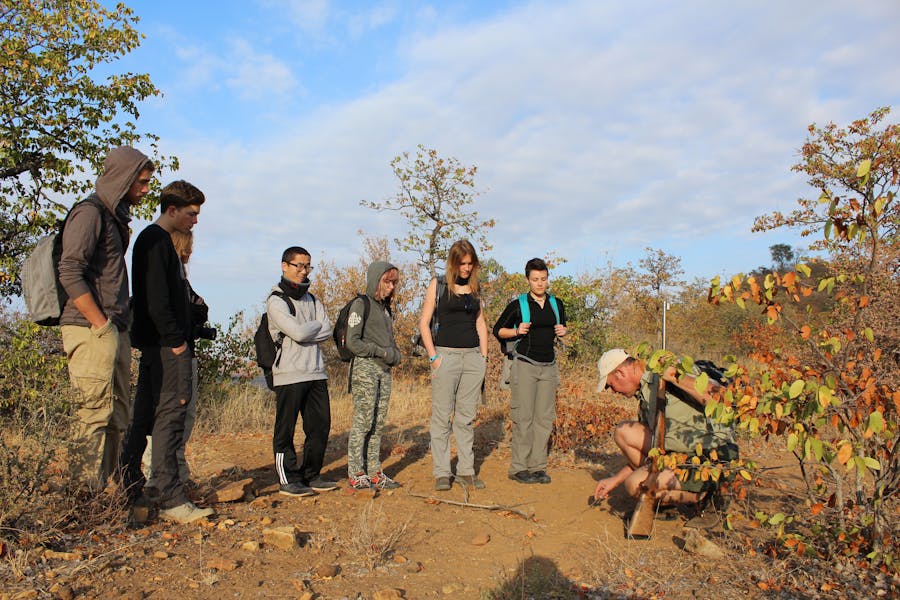 Species
Rhino
Elephant
Lion
Leopard
Giraffe
Honey Badger
and many more.
Conservation Impact
Conservation education
Wildlife research
Conservation management
Apply Now
Highlights
Work alongside conservation professionals
Your students will join the full-time team in a wildlife care and rehabilitation centre where they willhelp with all the hands-on animal care tasks. Learning from experienced professionals will give them a chance to develop real-world skills in animal welfare and management.
Experience two sides of wildlife care and conservation
Your field trip will introduce your students to life in the African bush where they will research and monitor animals in their natural environment. You will also spend time in a wildlife rehabilitation and care centre, working up close with animals that require treatment and care. 
Help save Africa's threatened wildlife
Monitoring and caring for animal populations and their environments is a vital element of wildlife conservation. Whether your students are using camera traps to monitor species or bottle-feeding an infant rhino, they will be engaged with activities that are both relevant and real.
Practical and theoretical learning
Throughout your expedition, your students will be applying their theoretical learning to real practical problems. They will also have time to debate the ethical questions that working conservationists and biologists grapple with on a day-to-day basis.
Activities
The itinerary of this field trip is divided into two sections. Your students will spend time at a prominent wildlife care and rehabilitation centre. They will also spend time in the bush participating in and learning about practical conservation work. The details of both sections will be tailored to the needs of your group but here is an overview of the activities we offer:
Animal rehabilitation and care
Hand rearing and care of young animals
Preparing food for the animals and taking part in the hands-on feeding rounds
Health checks, basic veterinary assistance and wound dressing
Cleaning cages and bomas to maintain healthy living environments
Monitoring the progress of individual animal's rehabilitation
Wildlife releases (if any animals are ready during your trip)
Helping build enclosures, temporary bomas or enrichment material
Wildlife monitoring and practical conservation work
Using transects and camera traps to survey the seasonal movements and population dynamics of various species
Using GPS equipment to record wildlife sightings and movement
Explore the Kruger National Park – one of the highest-density wildlife areas in Africa
Tracking wildlife by identifying and interpreting their signs
Identifying the plants, mammals, amphibians, birds, reptiles and insects that inhabit the African bush
Identifying nocturnal wildlife and learning how to use a spotlight without startling them
An introduction to astronomy
Bush orientation including fire building, cooking and indigenous plant uses
Learn
Through a combination of lectures, workshops and practical activities, your students will gain a variety of skills and knowledge. Intended for students at university, college or school level, the educational content of this expedition includes:
Wildlife care 
How to handle and care for a variety of African species including rhino, honey badgers and chameleons
Animal diets and how to safely carry out feeding rounds
Caring for orphaned animals including their dietary needs, enclosure cleanliness and enrichment
Interpreting animal behaviour in a care environment
Animal husbandry and hand-rearing wildlife
Assisting with veterinary nursing, treating injuries and dressing wounds
Observing and assisting with more intensive veterinary treatment
Conservation
The issues of wildlife poaching and rhino poaching in particular, its history and current status, plus anti-poaching methods used in the field
Conservation issues that impact wildlife populations such as hunting, wildlife poisoning, the bushmeat trade, habitat fragmentation and drought
Eco-tourism and its role in bringing money into conservation
Ecology
The natural environment of elephants, rhino, lions, leopards, antelope and other African species
Mammal, bird and reptile ecology
The relationship between predator, prey and plant species 
The impact of one species' population growth or decline on the ecosystem as a whole
The role of non-mammal species such as vultures, insects and plants in African ecosystems
The geology of different regions and how it affects the biodiversity of each area
Waterhole ecology
Biology
Mammal, bird and reptile biology
Natural diets of elephant, rhino, lion, leopard, antelope and other African species
Physiology of elephant, rhino, lion, leopard, antelope and other African species
Native African plants, reptiles, amphibians and birds
Behaviour
Behaviour of animal groups (e.g. hierarchy systems in prides of lions, troops of primates, elephant herds etc.)
Predator hunting behaviour and the difference between social carnivores such as lions and hyena compared to solitary predators such as leopards and cheetah
Movement of herd species including elephant, buffalo and antelope
Breeding behaviour of elephant, rhino, lion, leopard, antelope and other African species
The behavioural differences between animals in a natural environment and those living in captivity
Safety & Support
All our experiences and field trips meet strict safety guidelines and we provide expert guidance and support, both before and during your field trip.