Wildlife Veterinary Trip
A unique and authentic veterinary experience.
Want to broaden your veterinary students' horizons? From wildlife capture operations to veterinary treatment in the African bush, this experience gives your students the opportunity to work hands-on with Africa's iconic animals, such as rhino, buffalo, giraffe, cheetah and antelope.
Throughout your trip, your group will work alongside experienced wildlife vets on real veterinary work. Nothing is for show and all the work is genuinely necessary, which makes all the difference to their experience.
This trip is suitable for college and university-level students. While we cater for trips of any length, we recommend two weeks for this particular experience to give your students sufficient time to work with a wide variety of species and procedures.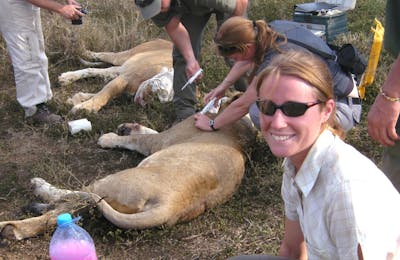 Species
Buffalo
Giraffe
Rhino
Lion
Antelope
Cheetah
Leopard
and many more.
Conservation Impact
Wildlife veterinary work
Wildlife management
Conservation education
Apply Now
Highlights
Exclusive to African Conservation Experience
The experienced vets we partner with don't accept students from any other conservation travel organisations. This means we offer your students a unique opportunity to work alongside these passionate and highly skilled veterinarians, helping them treat African wildlife in a real practice.
Contribute to your students' studies
Whether you use your trip to inspire university students about lesser-known aspects of the veterinary profession or treat it as a fascinating internship, our goal is to help them develop real-world knowledge they can apply to their studies.
Practical and theoretical learning
While the emphasis of our Wildlife Veterinary Student Experience is on practical learning, your students will also receive lectures in the field on subjects such as the anatomy and physiology of Africa's wildlife, sedatives used by vets in Africa, and diseases that are unique to the region.
Customise your experience
As well as veterinary work, your students can also spend time helping out at a wildlife rehabilitation centre or supporting a game ranger in the Kruger National Park. This makes the experience a great way to broaden your students' understanding of animal welfare and wildlife management.
Help save Africa's wildlife
Your university or college students will support real wildlife veterinarians, working at the forefront of Africa's battle to conserve its natural treasures.
Activities
Supporting real wildlife veterinarians, your students' work will be extremely hands-on – and just as varied. Depending on the animals being treated and the vets your students are partnered with, they could get involved in many of the following procedures and activities:
Assisting with the darting and capture of large African animals including antelope, buffalo, giraffe and zebra
Joining a vet on a mass capture operation where your students will prepare pole syringes and help to keep the animal sedated while on relocation trucks
Taking blood samples in the field on species such as buffalo
Treating injuries, wounds, disease and health conditions, both in the field and in breeding centres or sanctuaries
Helping to manage disease with proactive testing in breeding projects
Assisting in parasite control
Carrying out pregnancy testing in breeding programmes
Helping with contraceptive programmes to control breeding in rehabilitation centres or manage populations of wildlife reserves
You can also customise our Wildlife Veterinary Student Experience with add-on modules, opening your student's eyes to some other sides of wildlife care and management:
Spend time working in a general wildlife sanctuary or specialist rehabilitation facility
Shadow a wildlife ranger in the Kruger National Park, helping to monitor wildlife populations, deter poachers and improve the environment
Learn
As well as gaining hands-on experience (which you can read about under the 'Activities' tab), your students will also learn about the biology, behaviour and conservation of Africa's wildlife. Intended for students at university, college or school level, the educational content of this expedition includes:
Conservation
The wildlife vet's role in wildlife management, from wildlife capture and relocation to pregnancy testing of breeding animals
Human-wildlife conflict resulting from habitat loss, limited resources and economic pressures
The rhino poaching crisis, its history and anti-poaching methods being used to prevent it
The challenges facing elephants, from poaching to management
The role of hunting in conservation
The importance of genetic diversity in wildlife populations
Biology
Common diseases affecting African wildlife and the tests conducted to diagnose infection
Why disease testing is necessary in South African wildlife management and how to carry out blood testing on wildlife
How to administer lower-schedule drugs to antelope and other ungulates
The physiology and anatomy of Africa's wildlife 
How to conduct a post mortem on a wild animal
The diets of Africa's animals, both in the wild and in care
African wildlife diseases and their treatment
Veterinary drugs, dosages and effects
Behaviour
Animal behaviour in the wild compared with captivity
The challenges of treating animals in the wild
Herd behaviour in antelope for game capture
Safety & Support
All our experiences and field trips meet strict safety guidelines and we provide expert guidance and support, both before and during your field trip.